Ambush marketing is something that is causing much concern to the London Organising Committee of the Olympic Games (LOCOG). It is an issue that has already been causing panic, with numerous reports of alleged ambush marketers coming to light in the last few years, and LOCOG fear that it will become even more intense in the coming months as we get closer to the start of the games. However, if you are wondering what ambush marketing is exactly, let me explain. The International Olympic Committee (IOC) defined it as "all intentional and unintentional attempts to create a false or unauthorised commercial association with the Olympic Movements or the Olympic Games", which is a fairly selfish definition on their part. Honda has been under investigation by LOCOG following the release of a 2011 ad campaign which featured numerous British Olympic athletes. Furthermore, BMW are the official car sponsor of the Olympics.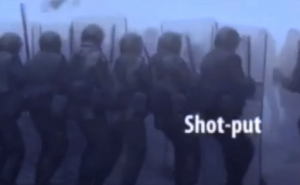 However, the IOC's definition also seems to include small businesses who could be seen as trying to rival McDonald's, Coca Cola and Visa, who are also official sponsors of the Olympics. The official sponsors have paid almost unimaginable amounts of money to be associated with the mega event, and they are most keen to protect their investment against all 'rivals' trying to associate themselves with the Olympics for free. Small businesses could also be potentially fined up to £20,000 without even realising that any crime had been committed, with LOCOG taking a zero tolerance approach on all ambushers. Surely, with big multinational corporations putting small companies out of business all over the world, LOCOG's wrath should only be directed at the multinationals, but at least McDonald's will be safe from the threat caused by small businesses.
The spectators at the Olympics this summer are also not safe and could potentially be turned away, or have items taken away from them if they are not products of the official sponsors. At the 2006 football World Cup in Germany before the start of a match, some spectators "were forced to watch the game in their underwear after being forced to remove their orange lederhosen linked to a ambusher brewer", possibly a sign of things to come. But now that the Olympics has become an advertisement for products that have no connection to sport, and that the world is being rebuilt in a corporate image, and we now no longer have the right to even wear our own clothes, everything is now falling in to place for this years Games to be the most successful yet.
Click London Olympics for more blogs
See our Olympics project pages for more information and videos.
Or visit PlanA our general blog on urbanism, planning and architecture.
Spectacle homepage
Befriend Spectacle.Docs on Facebook
Follow SpectacleMedia on Twitter