The Olympic Legacy has been an idea under siege since the term was first bandied about. Today though, Stephen Graham, Professor of Cities and Society at Newcastle university has published a damning indictment of the Legacy in the Guardian. His essay outlines how the security operation surrounding the games is not only about security, but instead about the promotion of corporate and political interests, thinly veiled by the non-description of public interest and safety.
Graham's article does not make for light or quick reading, but here are a few of the ideas to get you going:
With the required numbers of security staff more than doubling in the last year, estimates of the Games' immediate security costs have doubled from £282m to £553m. Greece's security costs for their Olympic Games were a major contributor, as part of the overall £10bn costs, to Greece's subsequent debt crisis. Current estimates for the London Olympic Games stand the costs around £26bn.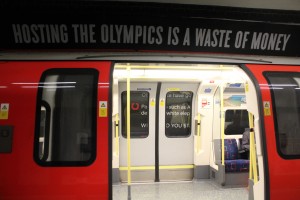 More troops – around 13,500 – will be deployed in the London operation than are currently at war in Afghanistan. The growing security force is being estimated at anything between 24,000 and 49,000 in total. Such is the secrecy that no one seems to know for sure. On top of this, an aircraft carrier will be moored on the Thames, and drones will patrol over the ceremonies.
New, punitive and potentially invasive laws such as the London Olympic Games Act 2006 are in force. These legitimise the use of force, potentially by private security companies, to proscribe Occupy-style protests. One such law allows police to arrest or eject anyone that does not comply with the 'celebratory look and feel' of the Games – in theory to prevent unofficial advertising. However, corporate interests aside, the odds that this law will be utilised only against advertisers are long.
The security preoccupations of Olympics present unprecedented opportunities to push through highly elitist, authoritarian and speculative urban planning efforts that otherwise would be much more heavily contested – especially in democracies. These often work to "purify" or "cleanse" diverse and messy realities of city life and portray existing places as "waste" or "derelict" spaces to be transformed by mysterious "trickle-down effects". The scale and nature of evictions and the clearance of streets of those deemed not to befit such events can seem like systematic ethnic or social cleansing. To make way for the Beijing Games, 1.5 million were evicted; clearances of local businesses and residents in London, though more stealthy, have been marked.
Spiraling costs, social cleansing, Government privatisation policy, and suppression of the population – these are all "bigger picture" issues. The everyday realities of the games seem to pale in comparison.  As Professor Graham delivers a strong blow to the pomp and sanctimony of the London Organising Committee, he highlights their priorities articulately but with subtlety. It seems that bankrupting the country is an acceptable price for establishing the Olympic legacy – oppressive security measures and extensive privatisation of any service in reach.
Click London Olympics for more blogs
See our Olympics project pages for more information and videos.
Or visit PlanA our general blog on urbanism, planning and architecture.
Spectacle homepage
Befriend Spectacle.Docs on Facebook
Follow SpectacleMedia on Twitter