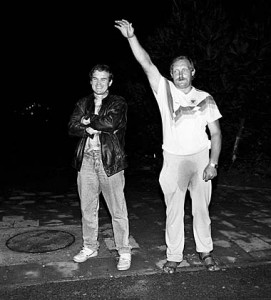 Screenings of the documentary "The Truth lies in Rostock" are scheduled for the next few weeks in Germany to remember the pogroms in Rostock-Lichtenhagen 20 years ago.
In August 1992 Neo-Nazis and local people attacked the Central Refugee Shelter, as well as an apartment complex, where Vietnamese contract workers lived . The riot lasted over three days and was the worst mob attack against foreigners in postwar Germany. Stones and  petrol bombs were thrown at the apartment block and neighbours applauded when it finally caught fire. The police took hardly any actions to prevent these events. Only a few weeks after the racist attacks the German government abolished the right of asylum.
The Rostocker newspaper "Stadtgespraeche" has already commemorate the upcoming anniversary earlier this year. Thanks to a crowdfunding initative they were able to collect enough money to produce 10,000 free copies of "The Truth lies in Rostock". At the beginning of August volunteers distributed the DVD to households in Rostock.
Filmscreenings:
Leipzig: Thu, 09.08.2012, 20.00 Uhr
Bremen: Sa, 11.08.2012, 18.00 Uhr
Hamburg: Su, 12.08.2012, 20.00 Uhr
Dresden: Wed, 15.08.2012, 21.00 Uhr
Kassel: Thu, 16.08.2012, 19.30 Uhr
Uelzen: Wed, 22.08.2012, 18.30 Uhr
Bruchsal: Wed, 05.09.2012, 18.30 Uhr
Click The Truth Lies in Rostock for more blogs
Or visit our The Truth Lies in Rostock project pages for more information and videos.
Spectacle homepage
Add Spectacle.Docs on Facebook
Follow SpectacleMedia on Twitter