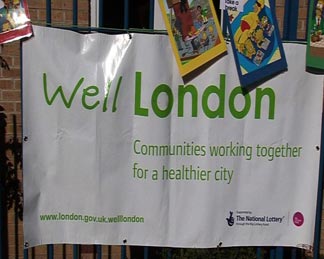 Read latest Well London posts here.
What is Well London Media Project
Well London Media Project invites residents from the 20 areas in which Well London is working to produce film content that fits in with the programme's themes and their own interests.
Spectacle are running media workshops with hands-on training in digital video skills and interview techniques. Following these there will be opportunities to film live events, create short films and work with other groups around London.
Well London Background
This project is part of the Well London programme, funded by Big Lotto. All projects are around the core themes of mental well-being, physical activity, open spaces, culture and tradition and healthy eating.
"Communities working together for a healthier city" will be central to all the media outcomes, giving participants free reign to address how they feel this should be done.
More information about the programme can be found at:
www.london.gov.uk/welllondon
www.spectacle.co.uk/well-london
Sign up
If your interested in being part of the project please download and complete the form below and return it by email or post, or if you'd like to more information about the project please get in touch.
Well London Media Project – Sign up
Claire Sharples, Project coordinator
Email: claire (at) spectacle.co.uk
Phone: 020 7223 6677
Project Documentation
Filming of other Well London activities is ongoing, if you sign up and request updates we'll send out shoot details as soon as we have the information.
We are uploading Well London activities onto the project page of the Spectacle website, where they can be viewed online.
Read latest Well London blog posts here.