As we have mentioned here on the Spectacle blog previously; owners of Battersea Power Station, REO (Real Estate Opportunities), have some illustrious plans to bring the Northern line to the Power Station. The project has received support from the mayor's office but no public money is being put towards it from either the mayor's office or the Department of Transport. This extension would serve to sever the two branches of the Northern Line so that only Bank services would travel to Morden and Charing Cross services would end in Battersea. As it is very few Charing Cross branch trains travel past Kennington. Far from benefiting the local community, this extension is effectively an attempt to build a private station for a private development with little to no concern for the local people.
In typical architectural consultation manner, they've produced 4 proposals and asked people to choose which one they believe will be the most beneficial. One of these maps is reproduced below and they can also be found over at London Reconnections along with some other useful information about the extension plans.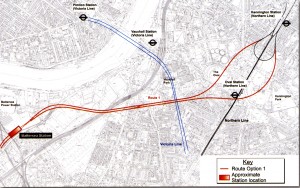 As can be observed on the below map taken from OpenStreetMap, REO's consultation map conveniently crops Victoria station and forgets to label Queenstown Road and Battersea Park stations. The South London Line which runs from Victoria and London Bridge passes through Battersea Park station thus the Power Station site is already connected to these two major stations. Additionally Queenstown Road station, five minutes walk from the Power Station site, is one stop away from Vauxhall Station. With these two connections to major stations very nearby, surely extending the tube to the area is a bit over the top? Tunneling is not a cheap process after all.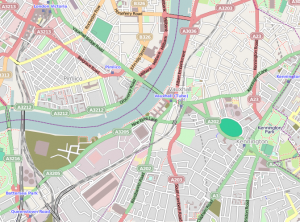 Another proposal suggests extending the Northern Line to Vauxhall en route to the new Battersea station, but as we mentioned, Vauxhall is already easily reachable from Queenstown Road station and is in fact actually quite a crowded station already. The other two proposals suggest an intermediary station in Nine Elms, either around New Covent Garden Market or at the site of the current Sainsburys. The intention here is to serve the Nine Elms opportunity area and the new planned US Embassy (allegedly their 12 storey embassy building requires some underground facilities). However a few more buses in the area could easily serve this purpose or even a small tram service which would be far cheaper than costly tunneling. Besides, Vauxhall is really only a short walk away.
The consultation has included a Freepost Questionnaire for anyone who would like to inform Treasury/REO how they feel about the proposals. It is also worth considering that Treasury Holdings are conducting the consultation themselves and likely have no obligation to share the results. Either way, how would the public know that any published results of the consultation would match up with the actual results?
Visit Spectacle's on-going Battersea Power Station Project
Watch a video trailer here: Battersea Power Station – The Story So Far
Subscribe to our newsletter mailing list, visit our contact page to subscribe
If you live in the neighbourhood and would like to get involved, contact us here putting Battersea Power Station in your message.
Click here for more Battersea Power Station links