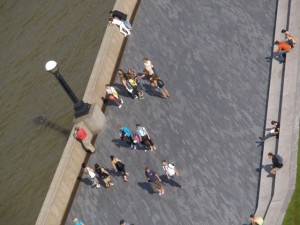 The European Tour Operators Association (ETOA) has warned that the 2012 Olympic games would be harmful to Britain's tourism industry. The ETOA has published research from cities who previously hosted the Olympic Games, which shows it has a "profoundly disruptive" effect on local tourism. They describe the official estimates for the number of visitors as "exaggerated". The association warned: "Normal tourist businesses suffer during the Games period . . . The region around the Games can suffer more than the host city . . . The impression that everything will be overcrowded and overpriced blights a region . . . [and] these difficulties are exacerbated by exaggerated claims of the benefits derived from the Games."
Meanwhile Boris Johnson is drumming up a further 8000 voluntary positions for the role of "London Ambassadors", which would involve helping the vast increase of tourists and visitors in 2012 to find their way around the city. So no paid tourism jobs there.
They can perhaps help shepherd the 70,000 unpaid volunteers in McDonald's regalia.
Job anyone?
For more information click here
For more information on 2012 controversy click here