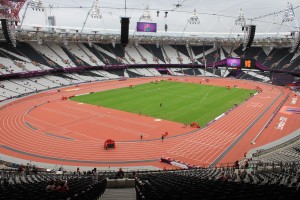 Olympic medalist Liz McColgan has said she fears that a generation of aspiring athletes will see no benefit from any "legacy" from the London Games.
The former long-distance runner, from Dundee, directed her concern to politicians during an event in the Scottish Parliament.
She said little has changed since she was young.
"I still coach kids who are paying £3 to get into a track that has very bad lighting. I can't see them in the winter time. There's only one toilet. There's no drinks available," she pointed out.
"It's quite sad that we've had so much success at the Olympics, and we've got 112 kids who all want to be like Mo Farah, and I can see that the cycle track that's just 100m along across the park is exactly the same, the swimming clubs are exactly the same.
Were we prepared? No we weren't.
We are probably going to let down a lot kids who are so enthused from the success that we had. Kids nowadays have got a great access to television. I didn't have that in my day. They see it and they want it.
I feel the Government, the associations have let us down because we are not prepared to deal with all these kids that want to be the next Chris Hoy or Kat Grainger."
Ms McColgan, who won silver in the 1988 Seoul Olympics and two golds in Commonwealth competitions, said it was lucky that the 2012 Games were a success.
Speaking as a panellist at the Festival of Politics in Holyrood, she said: "I believe there's no legacy that I can see left in my neck of the woods. We're left to our own devices."
In a direct plea, she said: "I've sat on many, many panels like this and nothing happens. Everyone's got great ideas but nothing happens. Why not just listen for once and take action?"
She was joined on the panel by former Scotland rugby player John Beattie who also complained about a lack of action to stimulate investment in sport for children.
He suggested private funding for state school sport, adding that he feels guilty about the high standards he enjoyed at private school.
"I don't think it's a Government thing alone. There's a whole corporate world that should be getting into this because there's no way you're getting more money," he said.
"The next step to make it work would be corporate money coming into the school system to sponsor leagues, to pay teachers extra."
The panel also included sports journalist Alison Walker and Scottish Sports Association policy director Kim Atkinson, and was chaired by Labour MSP John Park.
Click London Olympics for more blogs
See our Olympics project pages for more information and videos.
Or visit PlanA our general blog on urbanism, planning and architecture.
Spectacle homepage
Befriend Spectacle.Docs on Facebook
Follow SpectacleMedia on Twitter