Riverfront
London-Delhi 2010-2012 is a digital arts collaboration between artists and young people in London and Delhi, creating and sharing contemporary stories of their two cities.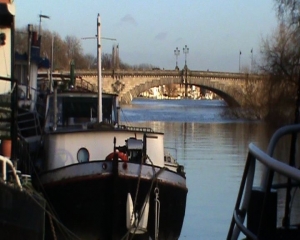 "The research areas that are being explored touch upon large scale structural changes that are happening in Delhi and London, the social worlds that get impacted through these changes and the zones of flux and uncertainty about ways of life that these produce. London-Delhi 2010 -2012 will draw on the different perspectives and transformations of these two cities, each with the eyes of the world upon them, as they prepare to host Delhi 2010 and London 2012.
In Delhi the large urban settlements - informal, quasi-permanent, illegal - are in the process of being demolished, resettlement colonies are being made on the outer edges of the city, complex networks of livelihood, community, services, relationships are entering the articulations of a changing city prior to the 2010 Commonwealth Games. The 2012 Olympics Games are bringing similar changes to the neighbourhoods of Greater London. The regeneration processes are taking place in many areas of East London while the promised legacy of the games can be felt across the town." For more information visit the Watermans website.
The London - Delhi exhibition is open from 28th Jan - 28th Feb 2010
A Walking tour around Battersea Power Station, led by Mark Saunders, ran June 30 2009 as part of the project.
London - Delhi 2010-1012 Arts Lab