Introduction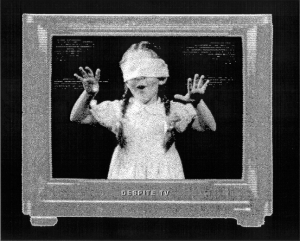 In this section we will be uploading text and video clips from the Despite TV archive.
Background
Despite TV was founded by Mark Saunders in 1982. The group operated out of the Tower Hamlets Arts Project on Whitechapel Road East London.
Despite TV produced video magazines concentrating on local issues which at the time included the transformation of Brick Lane from a National Front stronghold to the Bengali street we know today. The London Docklands Development Agency's take over of the old docks to turn it into an annex of the City. Despite TV also covered the year long Wapping Dispute in its first single issue magazine Despite the Sun.
Despite 10 - The Beast of Despite
Despite 14 - The Battle of Trafalgar
Despite 15 - Despite the Poll Tax
In this section...