Drapers Field, a park in Leyton that consists of all-weather football pitches, playing fields and an arts centre, is to be tarmaced over to serve as a storage depot for the London Olympics. While Waltham Forest council admitted that this would be a significant loss to the community – the park is used by around 100,000 people every year, including the Norlington School for Boys as well as 23 clubs – it still went ahead with the proposal, in the hope that the community will be granted substantial compensation.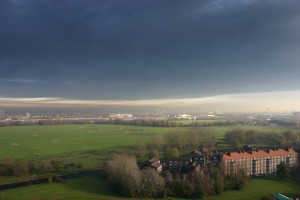 Hackney Marshes – one of several parks to be redeveloped for Olympic facilities

This decision has caused uproar with local people because of the glaring contradiction of trying to promote sport as a co-operative, public activity whilst reducing opportunities for actively participating in sport. It also seems to be nonsensical to turn a park into a depot, search for alternative sites for sports activities and then restore the original site after 2012, when all the council or the ODA (Olympic Delivery Authority) would have to do is find an already existing depot in the area. These admittedly are of course hard to find in East London.
This is not the first requisition of public green space in the interest of the upcoming mega-event; a substantial chunk of Hackney Marshes has already been pocketed for the development of a VIP coach park.
This must also be frustrating for residents in a location where local sport – particularly in the shape of Leyton Orient FC who make use of the amenities – plays a positive role in the community. In the meantime, Norlington School for Boys face an uphill struggle to find fields for activities, and most likely a further dip into the school budget.
Click London Olympics for more blogs
See our Olympics project pages for more information and videos.
Or visit PlanA our general blog on urbanism, planning and architecture.
Spectacle homepage
Befriend Spectacle.Docs on Facebook
Follow SpectacleMedia on Twitter