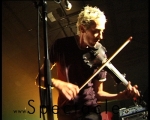 Format: mini DV, 4:59 mins, 1999
Location: Stopsley Recreaton Centre
Levellers perform Exodus live- Exodus benefit Concert at Stopsley Recreation Centre, Luton. 1999 .
Format: u-matic, 3 mins, 1996
Location: Luton/Zurich
Documenting the journey from Luton to Zurich as the Exodus movement take their raves to Switzerland. Broadcast in 1996 on SF (Swiss TV).