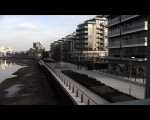 Format: mini DV, 50 mins, 2010
Location: Battersea Reach Flats, Wandsworth Bridge, York Rd, London SW11
Battersea Reach flats built on the site of the "Pure Genius" Land is Ours Eco Village (1996) Wandsworth, London SW18.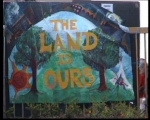 Format: hi8, 35 mins, 1996
Location: Guinness site York Road, London SW11 Wandsworth
Campaigners from The Land is Ours occupy the river front site of an old distillery and oil depot on York Road, London SWl1, Wandsworth. Building a sustainable Eco village with gardens and public amenities.