Siege Project Overview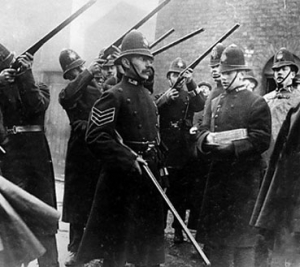 PROJECT OVERVIEW
The "Houndsditch Murders" of 1910 are still regarded today as the single worst case of police murder in British history. The Latvian anarchists held responsible entered into East London folklore when, trapped inside a house in Stepney, they took on Winston Churchill and the British Army in "The Siege of Sidney Street". Two died, but no one ever accounted for the mysterious "Peter the Painter", popularly supposed to be the leader of the gang and to have escaped the burning house during the battle.

Based on original research by Philip Ruff, this docudrama will look at the story in London and Latvia in the context of the hitherto unknown history of Latvian anarchism and of the 1905 revolution in the Baltic which gave rise to it, with much of the filming on set and location in Latvia.

Cast spaghetti western style, all the actors will speak their own language; English, Russian and Latvian. This will be authentic, and aesthetically and culturally appropriate, adding meaning and context that can be translated for international broadcast.

PARTNERS
This project is collaboration between
Mark Saunders: Director/Producer, Spectacle
An independent television production company specialising in documentary, community-led investigative journalism and participatory media.

Mark Saunders has produced documentaries across Europe and has been working around the story of the Siege since the early 80's.
Bruno Ascuks: Producer and film critic
Recent projects include the animated documentary - Little Birds Diary, Directed Edmunds Jansons, 2007, Produced Studija Centrums

The first Latvian animated documentary. Based on the unique drawings from the diary of 80 year-old Irina Pi∫ke. The film presents life in Latvia from WWII to the beginning of the 80's spanning the first period of independence, Soviet occupation and day-to-day life, through the eyes of the little bird.
Philip Ruff: Author, historian and broadcaster
Phil has been researching the history of the Latvian revolutionary movement since 1986. His biography of "Peter the Painter" (Janis Zhaklis), forms the basis of the research for this docudrama, due for publication in December 2010; A Towering Flame – The life & times of Peter the Painter
Lauris Gundars, Playwright, Scriptwriter and Director
Lauris Gundars wrote the script Svina krāsa(Lead on Canvas), for Latvian film studio ZALKTIS, in which 'Peter the Painter' was 19th Century artist Gederts Eliass.