BATTERSEA POWER STATION and Berkeley Homes are blocking the river access. REO, current owners of Battersea Power Station, are planning to do nothing on the site until after 2012 and not completing construction until 2020. That is their planned schedule, of course there could be delays and it could slip into the mid or late 20s. Meanwhile Londoners are excluded from using the river front.
REO like to claim they are concerned to benefit local people and Londoners in general but actually do nothing to back this up. A quick and relatively cheap benefit REO could implement NOW to demonstrate their good intentions would be to open up access to the river.
The Thames Path, part of the National Trail, is unique, it's the only long distance path to follow a river for most of its length. It should be possible to walk the entire length of the River Thames through the city centre.
Currently the Thames Path on the south bank going east runs along the embankment of  Battersea Park, extends to a new pedestrian bridge that goes under Chelsea Bridge towards the Power Station.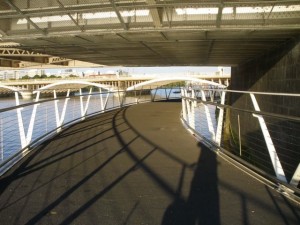 There is then a short riverside path running in front of the new Berkeley Homes flats that ends in a gate saying: "Private Property: No public Access Beyond this point. Site access only" and "Danger Construction Site"
There is no obvious reason why Berkeley Homes should be able to privatise this river front access for their exclusive use. Is it legal? There is no sign of any construction work being done beyond these gates. It cannot be because the Power Station is unsafe as REO, current owners of the site, have recently agreed to build a marquee inside the roofless turbine hall between the four chimneys for lucrative income generating public events.
The path could easily extend east in front of the power station and connect with the Thames Path at Kirtling St and Tideway Walk.
The only real obstacle is the Cringle Street Refuse Transfer Station. However at other points on the Thames were there are such riverside waste transfer stations the path continues inside a protective cage. On REO's own model (below) they showed the path going out onto a jetty over the river.  The grey jetty already exists only the white jetty extensions at either end are needed to make the Thames Path continuous and by pass the Refuse Transfer Station.
REO's own plans shows a riverside footbridge going around the waste transfer plant. A small extension of the jetty ( in white) provides a path that bypasses the Waste transfer plant.
There is no reason the Thames Path could not be opened up NOW, cheaply and immediately. If you want to let REO know how you feel about them blocking the Thames Path you can fill in their questionnaire.
Visit Spectacle's on-going Battersea Power Station Project
Watch a video trailer here: Battersea Power Station – The Story So Far
Subscribe to our newsletter mailing list, visit our contact page to subscribe
If you live in the neighbourhood and would like to get involved, contact us here putting Battersea Power Station in your message.
Click here to view more Battersea Power Station links
Spectacle Home Page
If you would like to object to the planning applications for Battersea Power Station you have until January 31st 2010 click here for more details.
For more information about Spectacle's Battersea Power Station project including video interviews.
To read more blogs about Battersea Power Station