Battersea's 'listed' gasholders are being demolished to make way for new homes, shops and business space. Wandsworth council approved the demolition of this and three other adjacent gasholders in Battersea in January 2013, as part of the regeneration of Nine Elms.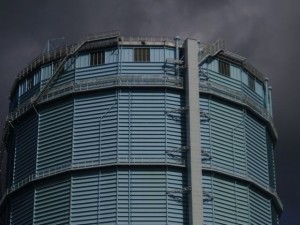 The Evening Standard reported the following on this:
"Objectors say that alternative uses for the site should be examined. Architect Keith Garner says: "In the German city of Oberhausen, there is a gasholder with the same features and it has been transformed into a museum and a centre for art."
The Gasometer in Oberhausen, Germany, is a former gas holder which has been converted into an exhibition space. It has hosted several large scale exhibitions, including two by Christo and Jeanne-Claude. The Gasometer is an industrial landmark, and an anchor point of the European Route of Industrial Heritage and the Industrial Heritage Trail.
In 1992 the city council of Oberhausen, with a margin of 1 vote decided to acquire the gasholder, gasometer in German, and convert it to an exhibition space. At the time, plans were being developed for building CentrO on an adjacent plot, and IBA Emscher Park planned to use the Gasometer for its exhibition. Ownership transferred to the city of Oberhausen, with Ruhrkohle AG paying 1.8 million DM in saved demolition costs to the city.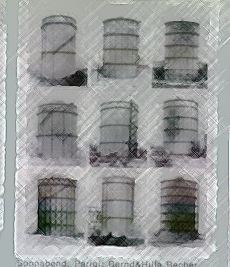 Hopefully the owners of the Battersea site will reconsider the usage of the gasholders for a similar purpose. Unfortunately, work (on the Prince of Wales Drive) has already began on tearing the disused holders down and they are planned to be gone by the end of 2014.  The owners have planning permission to demolish the listed Victorian Pump House at any time.
Click Battersea Power Station for more blogs
See our Battersea Power Station project pages for more information and videos.
Or visit PlanA our general blog on urbanism, planning and architecture.
For more on Christo and Jeanne-Claude. visit Artsy Christo page
Spectacle homepage
Like Spectacle Documentaries on Facebook
Follow SpectacleMedia on Twitter