The new Battersea Power Station owners, like all the previous "flippers", has barely spent a penny on taking care of the Grade II* listed building, which is in such a perilous state it is now listed as an endangered world monument, while gushing out PR about "restoration".
What they have spent money on is clearing the site of any inconvenient obstacles to untrammeled profitable development – getting planning permission to demolish the listed Victorian Pump House, finding an excuse to remove and mothball the listed cranes, getting the gas holders a certificate of immunity from listing and removed.
They also like to spend money on themselves and their target customers- the rich foreign investor. So while the building rots and the cranes rust away the owners have put in a planning permission application to erect a "temporary" but very expensive and intrusive marketing suite on the corner of the roof of annex B- a decision will be made in January 2014.
Happily from this position prospective buyers will not able to see the adjacent Cringle Street waste transfer station. As we mentioned in a previous blog the Western Riverside Waste Authority's second transfer station, Cringle Dock is situated next to Battersea Power Station and is capable handling over 5,000 tonnes of smelly refuse every week- all brought in by lorry.
Find below the planning application to erect a temporary marketing suite.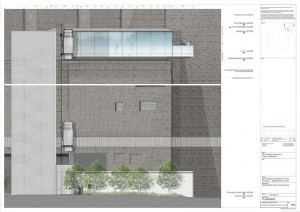 Planning Application erect temp.-2597010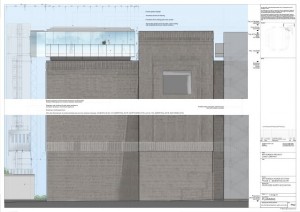 Planning Application Lift -2597010
In the BPS Newsletter 13 – 12 the owners describe their planning applications as:
"In November 2013 a planning application was submitted to Wandsworth Council to erect a temporary marketing suite on the north-eastern corner of the roof of Annexe B of the Power Station. We expect a decision in January 2014 and hope to erect the structure soon after."
So, there is plenty to object to the Battersea Power Station planning Applications
You can register your objections on-line now

Details of the planning applications can be found on the Planning pages of Wandsworth Council's website by searching the applications database using reference numbers below or follow our links:
Ref: 2013/5757  Alter or Extend a Listed Building
Click here to object/comment on 5757
Ref: 2013/5690   Application for Full Permission
Click here to object/comment on 5690
Click Battersea Power Station for more blogs
See our Battersea Power Station project pages for more information and videos.
Or visit PlanA our general blog on urbanism, planning and architecture.
Spectacle homepage
Like Spectacle Documentaries on Facebook
Follow SpectacleMedia on Twitter