Spectacle has been at the forefront of Participatory Video (PV) practice and community engagement for more than thirty years. We continue to innovate and during the last 9 months we have developed a model for delivering Participatory Video workshops remotely.
The Project
Spectacle is currently a partner in a research project developing a groundbreaking remote PV method. The research project Reinventada is funded by the London School of Economics (LSE) Knowledge Exchange and Impact Fund (KEI). It investigates the condition of displaced and migrant women, especially mothers and heads of household, living in disadvantaged neighbourhoods of Medellin (Colombia).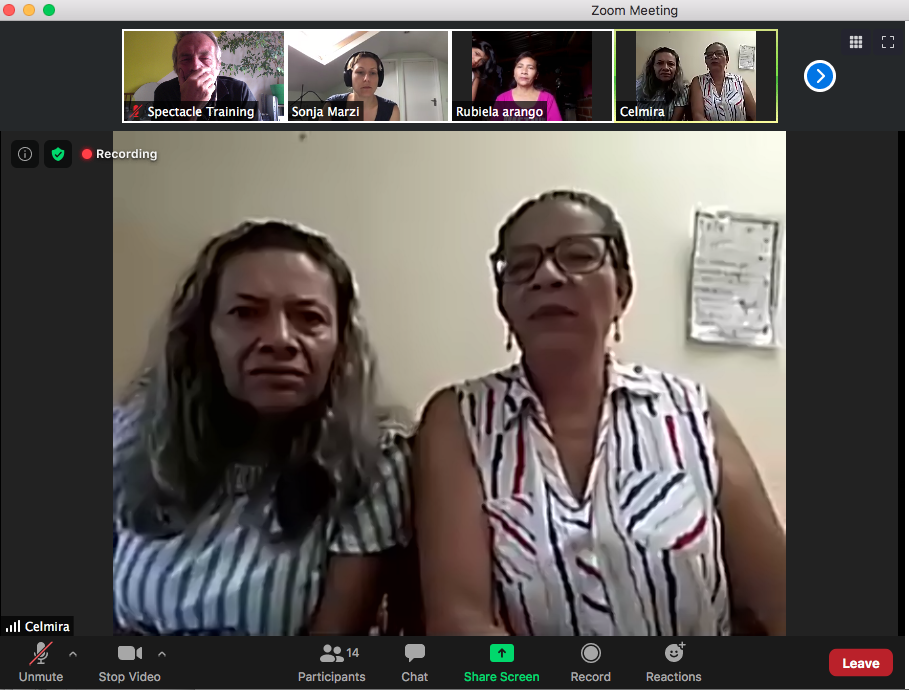 The research was initially planned to produce a participatory documentary on women's 'right to the city' in Medellin. However, as soon as the pandemic crisis exploded, being well aware that women are amongst the most affected groups of people during emergencies and disasters, we were able to create a remote participatory project that investigates the impact of COVID-19 on participants' everyday lives in poorer areas of the city.

The Beginning
Started in May 2020, the project was originally planned to be conducted face-to-face, but was forced online due to the pandemic. It is led by dr. Sonja Marzi, the Principal Investigator from the Department of Methodology at LSE, as well as supported on the ground by two Colombian partners: Maria Fernanda Carrillo, a sociologist and filmmaker, and Lina Maria Zuluaga, anthropologist.
The aim of this research project is to create a documentary filmed and edited by the women themselves to depict their daily lives during the pandemic.
Online Participatory Video
We began initially by training the participants on how to best use web platforms and available technology. We set up weekly 'Zoom' meetings that served as an online space for workshops on filming techniques and how to use their smartphones to capture high quality video. Zoom meetings became the workshop space where all production and editorial decisions were discussed and made in consensus. The production meetings are chaired by participants on a rotating basis. We discussed film content, planned shoots, reviewed and critiqued the footage together, and collaborated on editing the final documentary.
The groundbreaking project has successfully adapted Spectacle's Participatory Video methods and techniques to an online environment. The short documentary Reinventadas was released at the end of 2020 and premiered in film festivals in 2021.

Watch the Final Film
Visit our vimeo channel to see examples of Spectacle's past PV work.
Sign up to our Newsletter for more information about our ongoing projects.
Spectacle Homepage
Like Spectacle Documentaries on Facebook
Follow us on Twitter, Instagram, Vimeo, Youtube and Linkedin