A video history of Rectory Gardens
As part of our continuous effort to explore our extensive video archive with communities interested in its content, Spectacle Media has been working on a workshop-led participatory video archive project around the history of Rectory Gardens, a squat-turned-housing-cooperative in Clapham's Old Town
In collaboration with Studio Voltaire, Spectacle has facilitated a series of online workshops to explore, discuss and select video archive material, collaborating with participants to create a very successful exhibition that was launched at Studio Voltaire on Saturday 20 May 2023.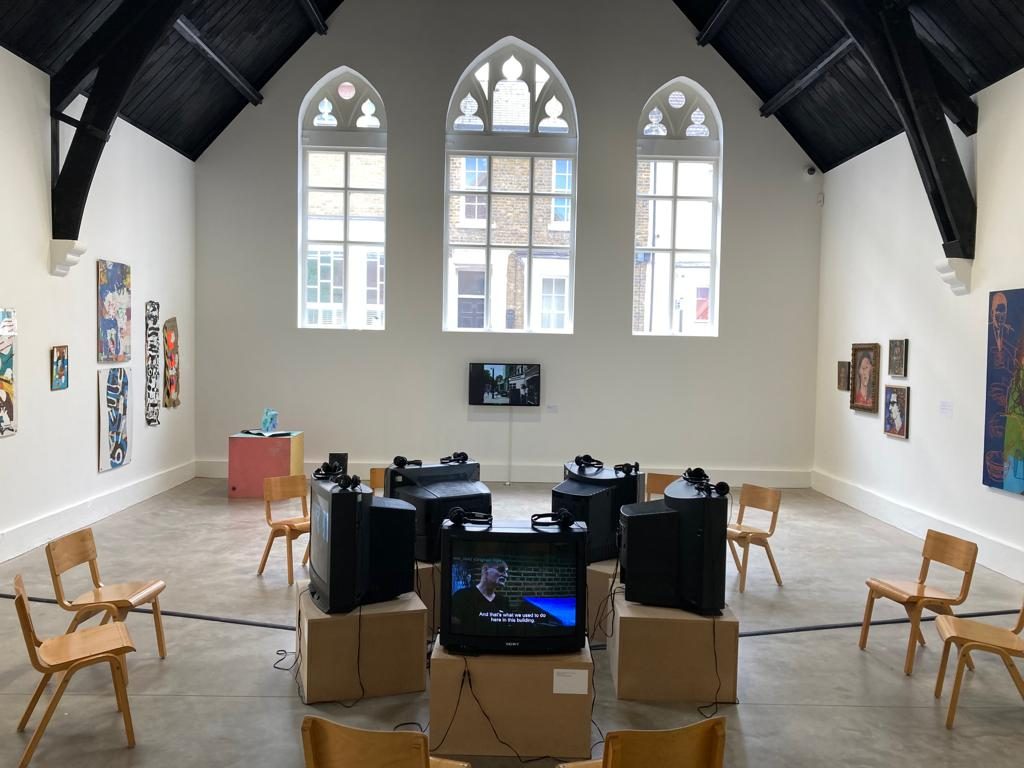 "All Good Things: A Video History of Rectory Gardens", exhibited the results of a 5 months long journey undertaken by former Rectory Gardens residents and new Clapham residents who met online for participatory video archive workshops to watch, research and select content from 10 years of video documentation that Spectacle has produced in collaboration with former Rectory Gardens residents.
Hundreds of visitors joined many members of the dispersed community on a sunny afternoon to explore the incredible history of the once squatted street that hosted artists, musicians and a progressive community from the 70s throughout the early 2000s until it was evicted and dispersed by Lambeth Council for questionable market-led housing policies. The exhibition, opened from Wednesday 24 May until Sunday 28 May, gave visitors the opportunity to dive into the extensive Rectory Gardens Video Archive and learn about the history of the unconventional community that from the 70s contributed to culture, art and social life in Clapham and beyond.

Spectacle Media has curated the digitalization and facilitated the access to almost 15 hours of video archive and facilitated 6 online workshops in which the video documentation became catalyst for discussions on the cultural and social changes in Clapham. The workshops resulted in a creative collaboration among participants who contributed to the installation and to collective art making through participatory video archive practice
---
Installation images, Good Things: A Video History of Rectory Gardens, Studio Voltaire, 2023. Credit: Zoë Maxwell
---
The exhibition, hosted in the main gallery of Studio Voltaire, gave visitors the opportunity to attend a live research project, where it became possible to interact with memories, testimonies and ideas produced in the workshop. Curated selections from the archive were looped on 5 TV sets in the centre of the gallery speaking to big themes like Community, Memories as well as the relation between community, the politics of evictions and short term housing policies. Old residents also contributed with examples of the art that they made on and in the street, memorabilia and photos that populated the walls of the gallery.

The exhibition has attempted to open a dialogue between the audience and the video archive material by letting the public choose from a vast catalogue of rough archive footage: full interviews with long term residents, residents who were born and grew up on the street, public figures, supporters of the co-op, artists and hours of visual archive collected from 2014 to present, documenting the street, clapham old town and key places in and around Clapham. Visitors have also contributed to the archive, sharing their own memories that filled the gaps of a big collage representing the complex history and outcomes of squatting and short term housing in London.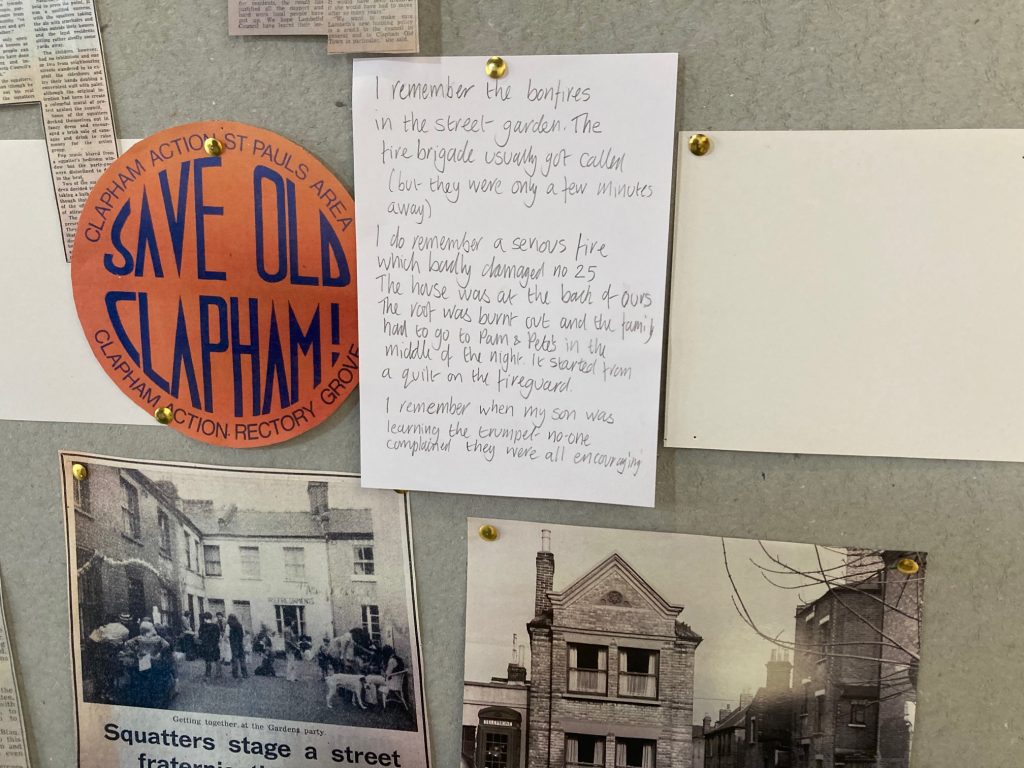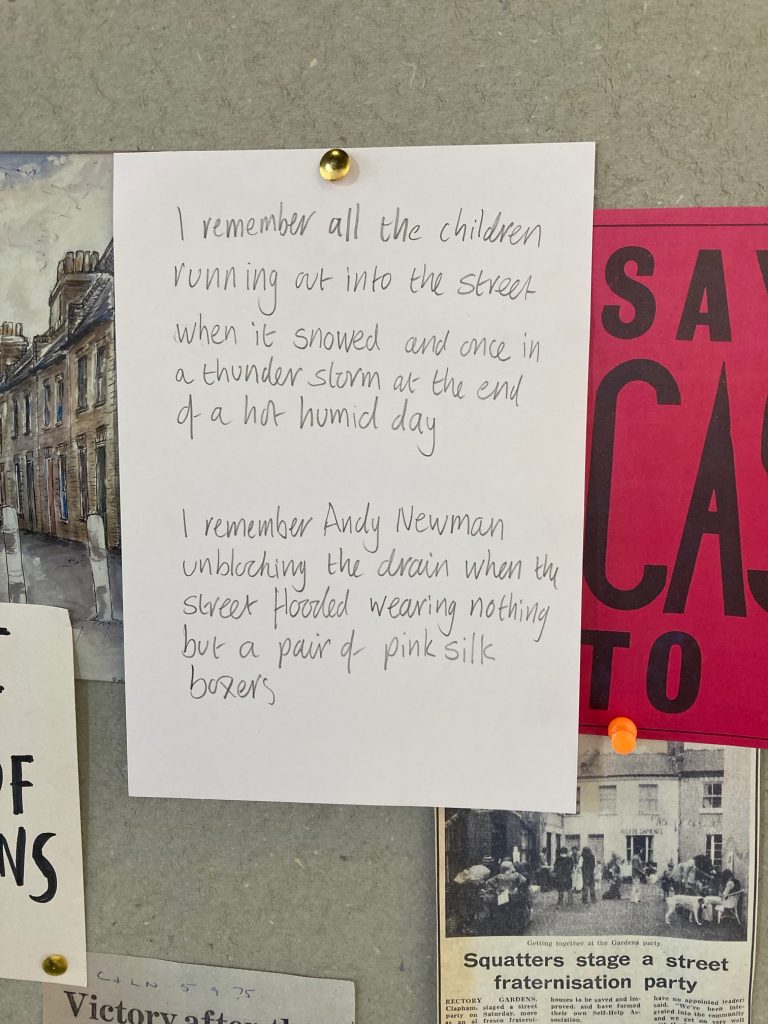 The Rectory Gardens video archive project has been part of Unearthed: Collective Histories, a project supported by Historic England's 'Everyday Heritage Grants: Celebrating Working Class History' and Hartfield Foundation.
Spectacle Media
Growing out of Spectacle's decades of pioneering participatory video practice, Spectacle Media is a non-profit Community Interest Company specifically championing community uses of digital media. Spectacle Media uses new technologies to empower groups and individuals through learning video-making skills, working collaboratively on community-led media production and engaging with online participatory filmmaking and editing.

Spectacle Media also has access to Spectacle's production equipment and thousands of hours of Spectacle's unique video archive on themes including urbanism, human rights, social justice, utopianism, alternative media, top-down vs. bottom-up regeneration, housing and more. Spectacle Media aims to develop projects to open and explore the video archive with communities interested in its content.

Studio Voltaire
Studio Voltaire is one of the UK's leading not–for–profit arts and education organisations. Championing emerging and under-represented artists, Studio Voltaire commissions and produces exhibitions, collaborative projects, artist development programmes, live events and offsite projects
Studio Voltaire is a registered charity and part of Arts Council England's National Portfolio.
---
Read more about Spectacle's participatory model and past projects.
How to contact Us
If you want to be trained in Participatory Video you can attend one of our Participatory Video Workshops or organise a bespoke programme for you and your organisation.
For more information or to chat about your project and ideas email us at training@spectacle.co.uk
Sign up to our Newsletter for more information about our ongoing projects.
Spectacle Homepage
Spectacle training courses
Like Spectacle Documentaries on Facebook
Follow us on Twitter, Instagram, Vimeo, Youtube and Linkedin