In a press release issued today the Battersea Power Station Community Group challenge the Power Station owners, REO/Treasury Holdings, claims of local support following consultation.
Be sure to register your views to Wandsworth Council before the February 1st deadline.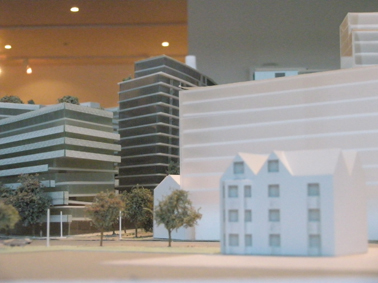 press release:
Re: Consultation
REO/ Treasury are claiming that 82% of people who responded to their latest consultation approve of the plans unveiled at the public exhibition on 3 days in December 3rd to 5th 2009
We feel that there should be better statistics behind this bald statement. The survey was self selecting through a simple questionnaire which literally asked to agree disagree or be unsure. There is no attempt to put the result in context of numbers of people responding.
On the 2 occasions we were at the exhibition there were few people attending. No notices to guide people to the exhibition and, apparently, inexperienced staff explaining the content of the models.
We fail to understand the purpose of this other than as PR during the period leading to the planning application when comments should be received at Wandsworth Council by February 1st 2010.
There is nothing on the exhibition to say that controversial plans to demolish the Grade II listed Water Pumping Station are applied for and that the demolition of the chimneys and rebuilding are proposed. I do know that the online petition on the subject of demolition of the iconic chimneys received over 600 votes to repair the chimney without demolition (PM web petition)
The questionnaire also asks the simple question to agree, disagree or not know if a tube line and station is supported.
Again, we know that the Minister for Transport Sadiq Kahn called the idea "humbug" and that there are no plans for the Government to financially support the tube line and that the Mayor of London has his own problems with a £5 billion deficit in the GLA transport budget so no money from there either.
See also YouTube "Battersea Power Station new plans" for the view of the exhibition and model
Contact Brian Barnes Chairman of Battersea Power Station Community Group
0207 627 5821
If you would like to object to these plans you have until January 31st 2010 click here for more details.
For more information about Spectacle's Battersea Power Station project including video interviews.
To read more blogs about Battersea Power Station