One to One Tutoring
For further information, including testimonials, please click here to visit our new site.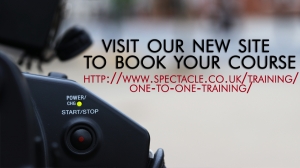 Spectacle can offer one to one tutorials by appointment on any aspect of your production or post production process. From this, we can offer on-going support while you work on your film project.
It is easy to find courses that teach you how to operate cameras and use Final Cut Pro software, but there is more to filmmaking than just learning how to use equipment and software.

This is a hybrid course; part training, part mentoring, part technical support, part consultancy- tailored to your personal needs.
ADVANTAGES

Work on your own film project as you learn.

You can even work on your own laptop.

Flexibilty: You can book sessions by the hour as and when you need them. As many or as few as you need.

Get the advice you need when you need it.
We can also offer a data back up service.
TOPICS WE CAN COVER:
Advice on shooting to edit, suitable filming equipment, technical concerns, editing, organising post production, budgeting, use of archives, research, copyrights, mutlicamera shoots, sound recording, use of sound. work flows, codecs, uploading on-line, buying equipment- Any thing you want to cover that helps you on your project.
ABOUT THE TUTOR
Mark Saunders is an award-winning independent filmmaker, media activist and writer. His expertise in the field spans over two decades.

He is currently running Spectacle Productions, a company which he founded in 1990. Clients have included Amnesty International, Channel 4, the Rowntree Foundation, the Howard League for Penal Reform, Council of Europe, Groundwork, the London Health Commission, and many others.

His films have been broadcast internationally and exhibited at galleries, including Tate Britain, the National Film Theatre, the Institute of Contemporary Art, Musee des Beaux-Arts, the National Media Museum and the Photographers Gallery.
Alongside production work, in 1990 he was a founding member of INURA (International Network for Urban Research and Action).
Mark has also been teaching for over 15 years, and has been a visiting lecturer at a number of institutions, including London School of Economics, the Royal College of Art, the London College of Communications, Bournemouth, Florence, and Coventry Universities. He is currently teaching at Birkbeck College.
Spectacle is a member of the Moving Image Training Alliance (MITA).
DETAILS:
Dates:
By appointment. Weekdays, evenings and weekends are all possible.
Location:
Spectacle
No. 25
99 - 109 Lavender Hill
London SW11 5QL
Price:
£65.00 per hour
Minimum 2 hour sessions.
HOW TO BOOK
Contact us describing your project and your training requirements.
If you would like more information on future training opportunities at Spectacle sign up for our Training Newsletter - tick the box if you would also like Spectacle's general newsletter.