Tailored Training Course at Spectacle or at your University/ Organisation
For further information, including testimonials, please click here to visit our new site.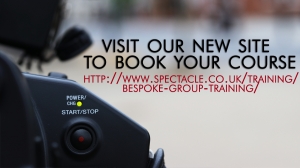 Are you part of a team, research group or department at a university or institute where a number of people are looking to expand your methods to include digital video but lack the skills?
Perhaps you are a teacher at a College or University wanting to organise training for your pupils in filmmaking? Or, maybe you work in the communications, PR, or marketing department of an organisation or company - be it a non-profit or a business - and know that the team would benefit from upskilling so that you can create high quality online content to promote what you do.
We can deliver our Digital Video Production training to a group of 6 or more people at your premises whatever the context. We can also host you here in our studio in London if you prefer. We can provide equipment and can travel anywhere within the EU (NB: we require expenses to be covered). We can also offer bespoke packages to meet your needs and are happy to discuss specific requirements. For more information and for a quote please contact us.
FEEDBACK ON IN-HOUSE TRAINING
University of Cambridge, Conservation Research Institute:
"Concise yet comprehensive. Left me feeling like I could create a worthwhile video from scratch".
"Mark really knows his subject, and I found the course motivating, practical and enjoyable. I came out with loads of ideas."
Amsterdam Institute for Social Science Research:
"In two days you really get a feel for what you can do with a camera, theoretically as well as practically."
"The theoretical explanations were really clear, while the practical exercises helped to bring them to life and make them stick."
Contested Cities international research network:
"It was really useful to learn how to critically view the material we shot and be able to correct mistakes, understanding what works and why."
WHAT WILL I LEARN?
You can find more information on our standard two day Digital Video Production Training Course here.
For information on our other courses (all of which can be brought to you) see:
Digital Filmmaking 4 Day Training Course - Start to Finish
Digital Video Production for Anthropologists and Social Researchers Training Course
Digital Video Production for the Web Training Course (NGOs, Charities, Start-ups, Businesses, SMEs etc)
ABOUT THE TUTOR
Mark Saunders is an award-winning independent filmmaker, media activist and writer. His expertise in the field spans over two decades.

He is currently running Spectacle Productions, a company which he founded in 1990. Clients have included Amnesty International, Channel 4, the Rowntree Foundation, the Howard League for Penal Reform, Council of Europe, Groundwork, the London Health Commission, and many others.

His films have been broadcast internationally and exhibited at galleries, including Tate Britain, the National Film Theatre, the Institute of Contemporary Art, Musee des Beaux-Arts, the National Media Museum and the Photographers Gallery.
Alongside production work, in 1990 he was a founding member of INURA (International Network for Urban Research and Action).
Mark has also been teaching for over 15 years, and has been a visiting lecturer at a number of institutions, including London School of Economics, the Royal College of Art, the London College of Communications, Bournemouth, Florence, and Coventry Universities. He is currently teaching at Birkbeck College.
Spectacle is a member of the Moving Image Training Alliance (MITA).
HOW TO BOOK
Please contact us.
If you would like more information on future training opportunities at Spectacle sign up for our Training Newsletter - tick the box if you would also like Spectacle's general newsletter.