Digital Filmmaking 4 Day Training Course - Start to Finish
For further information, including testimonials, please click here to visit our new site.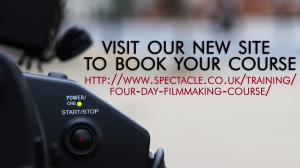 In four days we aim to go through the entire filmmaking/ digital video production process, from brief to production to post production (digital editing using Final Cut Pro) to delivery of the final edit online and on DVD. This is our most complete course, for those who want to quickly and effectively acquire a comprehensive set of digital media skills.
The course is conducted in a workshop environment, it puts into practice and develops the skills and techniques gained in our Digital Video Weekend Training Course and can be taken either in addition to or instead of this.
The four day course is hands-on, mainly comprising 'real world' practical exercises complemented by 'view and critique' sessions. We will create a 'real world' production process by collaborating with a 'client' local charity or community group.*
Each participant will have the opportunity to practice all aspects of filmmaking - camera, sound, directing, interviewing, lighting etc. There will be a maximum of 3 people per camera. We use HD camcorders and DSLR cameras.
WHAT YOU WILL LEARN
The workshop will be structured around the entire process, from start to finish, of making a digital film and burning to DVD and uploading online.
DAY 1
Introduction to the production equipment.
Pre-production:
Working to a brief.
Introduction to planning and how to make the most of recce.
Exploratory shooting
Exercise 1: Visit to venue for recce and exploratory shoot, establishing shots.

DAY 2
Viewing and Critique of video shot day 1
Pre-production:
Planning for second shoot, planning interviews.
Interview techniques
2 camera shoots
Exercise 2: Shoot action, locations and interviews.
Uploading material to computer for editing day 3
DAY 3
Introduction to post production- editing. ( Final Cut Pro and/or Premiere )
How to import and organise material
How to edit - cutting, transitions, sequences,
Viewing and discussion
DAY 4
Final editing
Captions, titles, transitions, colour correction
Codecs, exporting to DVD and online
The workshop will also touch on aspects of budgeting, copyright, use of archive and industry language.
*It will be absolutely clear to the "client" that it is a training exercise - that things can (will?) go wrong. We always endeavour to create a space where participants feel comfortable to "fail" and take risks. In return the "client" will have free access to any of the footage shot for their own purposes.
ABOUT THE TUTOR
Mark Saunders is an award-winning independent filmmaker, media activist and writer. His expertise in the field spans over two decades.

He is currently running Spectacle Productions, a company which he founded in 1990. Clients have included Amnesty International, Channel 4, the Rowntree Foundation, the Howard League for Penal Reform, Council of Europe, Groundwork, the London Health Commission, and many others.

His films have been broadcast internationally and exhibited at galleries, including Tate Britain, the National Film Theatre, the Institute of Contemporary Art, Musee des Beaux-Arts, the National Media Museum and the Photographers Gallery.
Alongside production work, in 1990 he was a founding member of INURA (International Network for Urban Research and Action).
Mark has also been teaching for over 15 years, and has been a visiting lecturer at a number of institutions, including London School of Economics, the Royal College of Art, the London College of Communications, Bournemouth, Florence, and Coventry Universities. He is currently teaching at Birkbeck College.
Spectacle is a member of the Moving Image Training Alliance (MITA).
DETAILS
Location:
Spectacle
No. 25
99 - 109 Lavender Hill
London SW11 5QL
HOW TO BOOK
Please complete the Booking Form to reserve a place on this workshop.

Also, please ensure you read our Terms and Conditions before reserving a place on one of Spectacle's training courses.
If you have any queries please contact training@spectacle.co.uk
If you would like more information on future training opportunities at Spectacle sign up for our Training Newsletter - tick the box if you would also like Spectacle's general newsletter.
For further information, including testimonials, please click here to visit our new site.