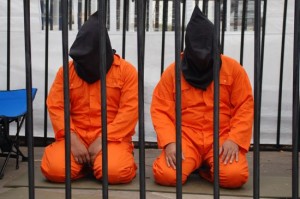 Coinciding with tomorrow's Anti-war Mass Assembly in Trafalgar Square tomorrow, there will be a demonstration marking Shaker Aamer's 10 year incarceration in Guantanamo.
"Ten Hours for Ten Years"  – Demonstration for Shaker Aamer will be staged by The Save Shaker Aamer Campaign's (SSAC) where a Guantanamo cage will be set up for ten hours from 10am to 8pm in the south-west corner of Trafalgar Square.
The Shaker Aamer Campaign urges the UK Government to demand the immediate release of British Resident Shaker Aamer to the UK as a matter of great urgency. Shaker is a UK resident and was originally cleared for release in 2007.
Shaker Aamer is the last British Resident still held in Guantanamo without charge or trial – a victim of US aggression following 9/11.
For more details on Shaker Aamer and the demonstration, visit the SSAC's website and their Facebook page.
For more information on the Anti-war Mass Assembly please visit the Stop the War Coalition's website and/or the Anti War Mass Assembly's dedicated site.

Order Spectacle's DVD Outside The Law: Stories from Guantánamo
Click Guantánamo for more blogs
Or visit our Guantánamo project pages for more information and videos.
Spectacle homepage
Befriend Spectacle.Docs on Facebook
Follow SpectacleMedia on Twitter