Roman Abramovich is looking to relocate Chelsea FC from Stamford Bridge to the disused Battersea Power Station (BPS). The current site only has capacity for 41,800 spectators and hence it is unable to host an anticipated 60,000. Therefore the Russian oligarch has recently injected a huge sum of money into researching alternative venues.
Apart from BPS, Earls Court & Olympia, White City and Imperial Wharf are all potential sites currently under consideration. However, BPS seems to be most sensible choice due to its convenient size and availability, The Guardian writes.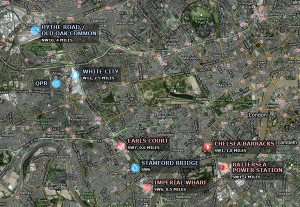 The final "yes" or "no" is not only up to the Russian as once again Chelsea Pitch Owners (CPO) are exercising their contractual rights. 12,000 shareholders are legally entitled to the name Chelsea Football Club and if it moves elsewhere, Abramovich needs the CPO's permission to use this well-known trade name. In order to get them on his side, the oligarch made an offer to CPO on Tuesday promising to give perks of priority rights to purchase season tickets and a roll of honor at the new stadium.
It might be worth mentioning that the US Embassy's future offices could be right next to Chelsea FC's new stadium in Battersea and one may wonder if anyone asked the American diplomats for their opinion on rubbing shoulders with football fans…
Click Battersea Power Station for more blogs
See our Battersea Power Station project pages for more information and videos.
Or visit PlanA our general blog on urbanism, planning and architecture.
Spectacle homepage
Befriend Spectacle.Docs on Facebook
Follow SpectacleMedia on Twitter