Material from the Silwood Project will be shown during the Small Change Exhibition at the Airspace Gallery, as well as some of Spectacle's work with Brussels partner Plus-tôt Te laat.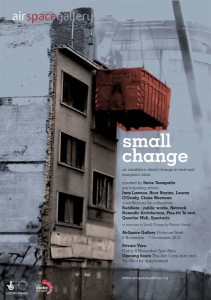 Small Change focuses on change and place making in the city, seen both as a physical and imagined entity. The project comprises a group exhibition featuring existing and new work by four artists, a public intervention and a talk. Alongside artists, collectives from the UK and beyond contribute to the exhibition with audiovisual material that documents their engagement with the public realm. The exhibition is a response to the book Small Change by architect Nabeel Hamdi and its main idea that small-scale actions have the power to bring about positive change in urban communities. Acknowledging creative practice and collectivism as agents of change, the exhibition invites artists and collectives whose practice addresses issues of place and social change. The artists will realize new work, alongside showing existing sculptures, drawings and video's. Audiovisual material from collectively-run projects that aim to making meaningful contributions to their environments, will open up the gallery space to various localities and concerns.
Small Change is curated by Sevie Tsampalla and the participating artists are: Jane Lawson, Noor Nuyten, Lauren O'Grady and Claire Weetman with contributions by collectives: Buddleia / public works, Network Nomadic Architecture, Plus-tôt Te laat, Quartier Midi and Spectacle.
Spectacle's following Silwood video's will be shown:
Work in progress. 13:49
Moving on 1:43
Time to move on 1:45
My walk home 3:36
Watercolours 2:34
The exhibition is running from the 8th of November till the 7th of December. Enough time to give it a visit. The opening hours are: Thu-Sat 11pm-5pm and Tue-Wed by appointment. Find out how to get there.
See our Spectacle Catalogue for buying video's from the Silwood Project.
See our Blog Homepage for more information and videos.
Or visit PlanA our general blog on urbanism, planning and architecture.
Spectacle homepage
Like Spectacle Documentaries on Facebook
Follow SpectacleMedia on Twitter