Last week's blog entry on Battersea Pumping Station focused on the frailty of the argument behind demolishing the building by current developers REO / Treasury Holdings. The pump house is a listed building at Grade II and pre-dates the power station by several decades as it was built in 1850. It has suffered from the same neglect that has befallen the power station, and like the sleeping giant that dwarfs it, it has been proclaimed as unrestorable by the developers and therefore fair game to be knocked down to make way for gated communities and a retail hub.
Yet much is being ignored here. The new Planning Policy Statement 5 declares that the council must take into account not only the possibility of sustaining and restoring a building of historical significance, but also weigh up the loss of heritage that would disappear along with the building against the desirability of any new development and the effects of both actions on the local community.
Kew Bridge Engines Trust, 20th Century Society, Battersea Society, SAVE, Greater London Industrial Archaeology Society, and also The Victorian Society (whose have posted a formal written objection and recorded an interview with Spectacle on their attitude towards the developers' plans), are amongst many significant organisations to have questioned the planning application. And with good reason.
The developers are playing the practical usage card, and are shrewdly associating the building's dereliction with inaction and obsolescence. However, Spectacle followed a team of architects who declared the pumping station structurally sound, and therefore transformation must subjugate destruction according to PPS5, but in what capacity?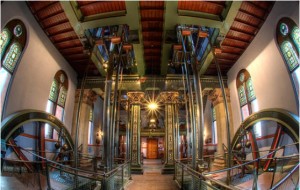 Papplewick Pumping Station, above, is an illustration of a successful restoration on multiple levels. Built a few decades later, the water pumps are back in full working order and as a museum the station is an important focus of historical and engineering study. English Heritage, who have for the past few years failed to back any substantial arguments for preservation, have conversely put money into the ongoing restoration of Cross Ness Pumping Station, which includes plans for use in an educational context, and will be finished in 2011.
For Battersea, the local industrial heritage could play a huge role in the redevelopment of the power station site. Other suggestions include an exhibition space for artists and musicians, as well as a provision for housing archive materials indispensable for environmental, archaelogical and architectural study.
Beyond the functional potential for the site, it would reverse years of association with apathy and inertia, and could instead by synonymous with ingenuity, innovation and regeneration, perhaps even ultimately rousing support for a more public discussion on plans for the site's regeneration.
A decision on the current application will be made by Wandsworth Council in July. It is not too late to register your comment or objection to its demolition.
Click Battersea Power Station for more blogs
Or visit PlanA our general blog on urbanism, planning and architecture.
See our Battersea Power Station project pages for more information and videos.
Spectacle homepage
Befriend Spectacle.Docs on Facebook
Follow SpectacleMedia on Twitter