Wanstead Flats: A vast, open grassland in Epping Forest, east London, surrounded by residential areas: This is where the Metropolitan Police plans to site an operational centre for the 2012 Olympics. On 5th September 2010, about 350 people attended a Mass Community Picnic on Wanstead Flats, demonstrating their opposition to the police's proposal.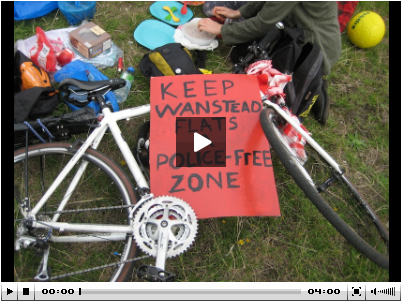 Official statements by the City of London, responsible for Epping Forest, have stated it will be a police briefing centre in the southwestern part of the Flats for a period of three months. However, subsequent conversations with officials have revealed that the site, covering three hectares, will seemingly be used for police deployment, and include a feeding station and stabling for police horses and also holding cells. Since those plans became public in June, local residents have started to organise their protest in order to preserve the open green space. Wanstead Flats are protected by the Epping Forest Act, 1878 which inhibits any use other than for recreation and public enjoyment and does not allow the erection of permanent structures. It is feared that the police's proposal will set a precedent for further developments on the Flats in the near future. The fact that the Epping Forest Act has to be adapted in order to legalize the planned project is strengthening these apprehensions. These and other critical issues such as lack of public consultation, concerns about traffic and accessibility were discussed by local residents during the event on 5th September with Paul Thomson, Superintendent of Epping Forest. Two similar temporary police centres are to be erected for the Olympic Games, one in Hackney and another in Greenwich.
The next Local Residents' Public Meeting of the Save Wanstead Flats Campaign will take place on Wednesday 6th October 2010, 7pm, at Durning Hall Community Centre, Earlham Grove, Forest Gate E7 9AB. For further information see savewansteadflats.org.uk
Wanstead Flats is one of many green sites that the "Greenest Olympics" will affect.
This is one of many green sites that the "Greenest Olympics" will destroy also see
Park to be tarmaced for Olympics
Basildon is latest signing to Disgruntled First XI
Greenwich Park, a centre for Equestrian Excellence? Perhaps not
Click London Olympics for more blogs
See our Olympics project pages for more information and videos.
Or visit PlanA our general blog on urbanism, planning and architecture.
Spectacle homepage
Befriend Spectacle.Docs on Facebook
Follow SpectacleMedia on Twitter