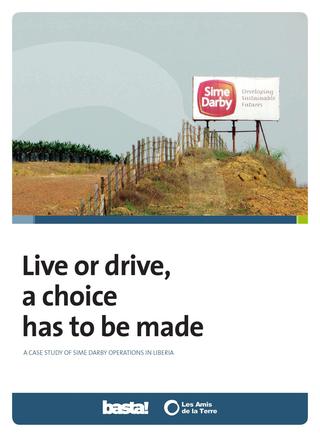 Friends of the Earth in collaboration with Basta! and Les Amis de le Terre, has released a report investigating the Malaysian multinational conglomerate Sime Darby's projects currently underway in Liberia, establishing oil palm plantations in order to meet the demands of Europe, China and India. Although rich in natural resources, Liberia is one of the poorest countries in the world, and attracting foreign investors is seen by government and international organizations to be a cornerstone in a strategy for reducing poverty and ensuring the economic growth of the country. With this economic pressure and a desire to create jobs, companies such as Sime Darby exploiting the countries' natural resources are subject to little national scrutiny.
Forests are crucial to Liberian society. They are a source of subsistence, economic activity and cultural identity, and provide medicines as well as construction materials. Forest areas of the Guinea Highlands found in Liberia are considered as a highly important conservation zone owing to the rich biodiversity of flora and fauna. 85% of this ecosystem, which covers nearly 420,000 km2, has already been destroyed. Liberia's natural resources, and in particular control over the exploitation of wood and ore minerals, have played a significant role in the region's conflicts.
Through the promotion and the implementation of policies favourable to investors and designed to attract foreign capital to Liberia, the government signed a number of long-term contracts in quick succession which granted foreign conglomerates the right to install industrial mining projects, large agricultural plantations, and offshore petroleum exploration along the coast. These contracts – known as "concession agreements" – cover nearly half of the country's land, land which houses 40% of the population.Chief among concessions are those for palm oil production.
The government's development plans are without precedent: within a few years, around 5.5% of the total area of the country could be covered with industrial oil
palm plantations, whose production would be destined for exportation. Such a rate
of conversion can only cause deep-seated tensions over land.
Sime Darby is one of three companies controlling palm oil production in Liberia. The Malaysian company operates in 21 countries and describes itself as "the world's largest palm oil producers". Sime Darby is also a founder member of the controversial Roundtable on Sustainable Palm Oil (RSPO) which has a certain number of principles and criteria related to sustainability and community 's land rights. Unfortunately, regulating these principles and criteria is left to Sime Darby itself; clearly self-regulation is not appropriate in instances of resource exploitation such as this.
Friends of the Earth Liberia decided to conduct an independent review in 2012 of Sime Darby's practices in Liberia. The results of the review show that the contract signed between the government and Sime Darby could be the source of
serious conflict in the coming years: not only were communities left out of the
process when the contract was drawn up but more worryingly, even government representatives admit they were not fully aware of its implications.
The report also points to a glaring lack of adherence to concession protocol relating to the protection of community's land rights (much of which has been held in common and thus has no land title attached that would protect it from seizure), environmental protection, and the building of infrastructure such a schools and hospitals (what has been built is accessible only to employees, not the community as a whole). The Friends of the Earth report provides an in-depth analysis of Sime Darby's Liberian operations, including the larger ties to Europe's energy demands.
Europe is an importer of Liberia's palm oil, part of a questionable policy of using what are assumed to be more sustainable alternatives to petroleum but which often result in massive deforestation and polluting fires. Besides indispensable local opposition to block any new factory project, we also have to convince the European decision- makers to adopt policies that will enable us to reduce our demand for 'sustainable' agrofuels, and thus the environmental and human rights burden on countries such as Liberia.
The target of producing 10% of the energy used in the road transport industry from renewable energy resources by 2020 must be abandoned because the growing demand for agrofuels is the main cause of the European deficit in vegetable oil. Structural measures for actively reducing the consumption of fuel must be put in place: the relocalisation of the economy, the development of public transport and the fight against urban sprawl.
Friends of the Earth report is available here.
Click Battersea Power Station for more blogs
See our Battersea Power Station project pages for more information and videos.
Or visit PlanA our general blog on urbanism, planning and architecture.
Spectacle homepage
Like Spectacle Documentaries on Facebook
Follow SpectacleMedia on Twitter