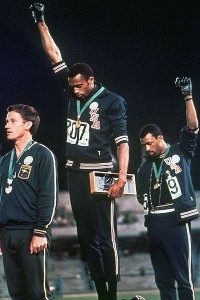 John Carlos, who marked his medal at the 1968 games with a raised fist 'black power' salute, will speak about inequality, resistance and struggle in London on Monday 21st  May 2012 at a meeting organised by members of the RMT trade union on the London Underground and sponsored by the Fire Brigades Union. The famous gesture by John Carlos and fellow medal winner Tommie Smith epitomised resistance to racism.
The world is under the spell of the Olympics 2012. In these times of global gathering around an sports event, resistance is the best Olympic spirit according to Olympic athlete Carlos. Resistance against inequality and being pro human rights.
At the Olympic Games in Mexico City John Carlos created one of the most powerful images of all times. When the American anthem started, he and Tommie Smith bowed their heads and raised their fists to represent the Black Power movement of that time. Their way of dressing and posing represented symbols for working people, black poverty, peace, and lynch mob victims. In defies of the important Olympic rule: no politics. This controversial gesture created huge debates about politics. Carlos' athletic career was over, but his human rights spirit did not die. He represents personal sacrifice for humanity and equality and this is your chance to hear him speak in real life.
John Carlos will be joined by activist and campaigner  Doreen Lawrence, whose son Stephen was murdered by racists and whose long battle for justice brought the conviction of two of his killers earlier this year. Also on the platform will be Janet Alder, whose brother Christopher died in police custody, and Unite Against Fascism joint secretary Weyman Bennett.
Other speakers include Samantha Rigg-David from the Sean Rigg Campaign for Justice and Change and United Friends and Families Campaign, Sharhabeel Lone of the We are Babar Ahmad Campaign, FBU general secretary Matt Wrack and Mac McKenna, an RMT activist on London Underground.
Register here for FREE! and join the FaceBook page.
Click London Olympics for more blogs
See our Olympics project pages for more information and videos.
Or visit PlanA our general blog on urbanism, planning and architecture.
Spectacle homepage
Befriend Spectacle.Docs on Facebook
Follow SpectacleMedia on Twitter