A pig is flying over the Battersea Power Station, London again, 35 years after it flew there for the first time in 1977. On both occasions Pink Floyd released the albums with the floating pig shot on the covers, and even though the musicians did not attend the events in person, they once again brought desirable publicity to the derelict station.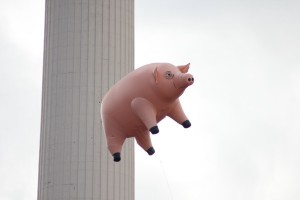 The two covers, Animals in the past and Why Pink Floyd…? today,  can be easily confused, as this landmark site looks exactly the same as 35 years ago. This is in spite of the owners constant promises to renovate the station and "create an entirely new district for London". The current development proposal aims to create the first zero carbon office space in Central London, "a stunning event space", the river walk section, a green energy plant and a conference centre etc.
However, so far the inflatable pig is probably the only "cultural" mark at the station site, despite the cultural rejuvenation plans proudly announced on the Battersea Power Station Website . The power station has been unused since its closure in 1982, and is gradually falling to the ruin. In consequence, English Heritage described the conditions at the place as "very bad", and included it on the Buildings at Risk Register.
The current owners,  Treasury Holdings, struggle to make the ends meet due to the Irish banking crisis. This might force the company to sell the station to another private developer willing to face those financial challenges, which the previous three owners failed to cope with. Further information can be found on the Spectacle's Blog.
Perhaps real pigs will start flying sooner than the actual redevelopment will finally begin.
Click Battersea Power Station for more blogs
See our Battersea Power Station project pages for more information and videos.
Or visit PlanA our general blog on urbanism, planning and architecture.
Spectacle homepage
Befriend Spectacle.Docs on Facebook
Follow SpectacleMedia on Twitter