History
History
Battersea Power Station is home to what is now an unused coal fired power station that is located on the south bank of the River Thames, near Battersea in London. The power station is surrounded by 32 acres of London Riverfront and is the world's biggest brick building.
During the 1920's, electricity in the UK was supplied by numerous private companies, that built small power stations for individual industries. Some of the surplus power-generated electricity went to the public supply. Competition and rivalry caused Parliament to state that the electricity should come from a unified system under public ownership. 30 years later, the electricity supply was nationalised.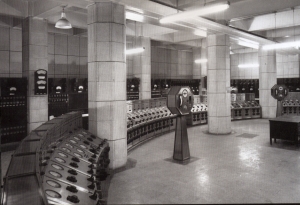 Source: Inside Battersea Power Station from Power Station magazine

The proposal for this power station was created in 1927 by English architect, Sir Giles Gilbert Scott whose work also includes Liverpool Cathedral and the red telephone box, and architect J.Theo Halliday of Halliday and Agate. Halliday was responsible for the overall shape of the building and interiors. Scott was responsible for the exterior styling such as the art deco detailing of the chimney bases. The power station consists of two individual power stations that come together to form a single building.

The first power station was built in the 1930's, the second in the 1950's. For twenty years the building had a square-like appearance. It was not until 1953 that the power station had four tower-like chimneys built onto its roof to create the familiar silhouette appearance that it has today.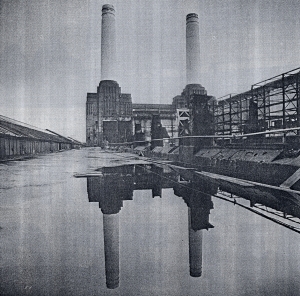 Source: Silhouette visual of Battersea Power Station from Battersea Bulletin
Battersea Power Station served London with electricity between 1937 and 1980. It is one of the best loved landmarks. It also appeared on the front cover of English rockband Pink Floyd's 1977 album 'Animals.'

The Central Electricity Generating Board was in charge of keeping the lights on in England and Wales. They wanted the building to be knocked down in order to redevelop the site. This was not possible as in 1980, Battersea Power Station became a listed building.