Current Planning Application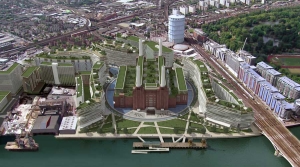 Below is a summary of the developer REO's claims for the site. If you want a more critical view visit the Spectacle Blog.
November 2009
The proposal includes a scheme that includes five other sites in the triangle of land between the Thames and Battersea Park Road to the east of the railway lines and involves the demolition of the listed former Battersea Water Pumping Station.
In total the scheme would accomodate 972,369 sq.m. of floorspace and includes residential flats, build-to-let residential, serviced apartments, assisted living accommodation, shops, restaurants, cafes, bars, business floorspace, hotel accommodation, event and conference space, community facilities and cultral space, an enery centre, basement car parking and the development of the Power Station jetty. It is being developed as Europe's largest carbon neutral building.
A further addition to the plans proposes a new London tube extension. REO claim to be working closely with Transport for London and London Underground but as both say there is no financing this scheme will almost certainly not happen.
see Spectacle Blog
The proposed new tube line will extend the Northern Line from Kennington into Nine Elms. Two new stations will be created, one at Battersea Power Station and the other near to Sainsbury's on Wandsworth Road. At peak times the proposed new extension could carry 24,000 people per hour in both directions at two minute intervals – with a journey time of around 11 minutes to Bank and Leicester Square.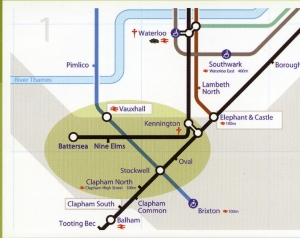 Click here to view a Battersea Power Station Promotional Video
Click here to view Planning News November 2009 : A public consultation newsletter from the Wandsworth Planning Service
October 2009
Wansworth borough Council has now formally registered the outline planning application for the redevelopment of the Battersea Power Station site and is preparing to put the application out to puplic consultation in a few weeks time. The submission of the planning application represents a major step forward to finally achieving the redevelopment of the site, and bringing the Power Station into public use.
Plans for the 40 acre site includes: 3,700 new (luxury) homes, office spaces, shopping facilities, restuarants, a conference centre, a hotel, extensive areas of new open space ( mostly water moats) including a new riverside park and (unspecified) community facilities.
Plans for the revelopment of Battersea Power Station has included one of the UK's largest and most comprehensive public consultation exercises. (this claim is ridiculous). Involving 2 exhibitions attended by over 15,000 members of the public (Really? Every time we went there were only a handful), hundreds (?) of meetings with the local community (a few) and political leaders (maybe hundreds) and (misleading) newsletters to 30,000 local residents.
Click here to view the Battersea Power Station Press Release - Oct 2009
Click here to view the Battersea Power Station Newsletter - Oct 2009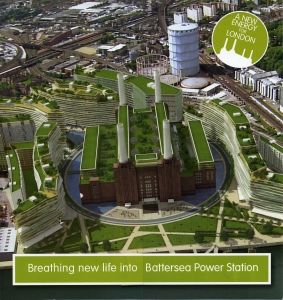 June 2009
Click here to view the Battersea Power Station Press Release - June 2009
May 2009
Click here to view the Battersea Power Station Newsletter - May 2009
February 2009
Click here to view the Battersea Power Station Newletter - February 2009