Tideway Village
Tideway Village is a community of houseboats moored in the Nine Elms area; a short way down the river from Battersea Power Station.
Their floating community is threatened by encroaching property development and ruthless gentrification.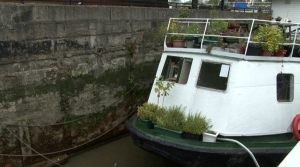 The residents have a community website with an online petition and have been garnering media coverage and support for their cause.
Spectacle will be continuing to follow the Tideway Village's story and keeping a critical eye on the Nine Elms development that encompasses the dock.
Follow this link for interviews with the Tideway Village residents.