First Plans for Battersea Power Station
In the 1980's developer John Broome planned to turn the power station into a theme park, to be opened by Margaret Thatcher on May, 21, 1990 at 2.30pm. John had success in theme parks after marrying into the family of the people who owned Alton Towers, where he introduced the 'Corkscrew' rollercoaster which is now closed down. John sold Alton Towers in 1990.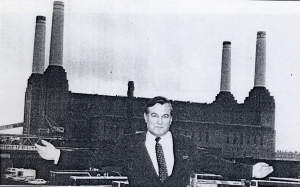 Source: John Broome in an edition of Battersea Bulletin
He paid the Central Electricity Generating Board (CEGB) £1.5m. Proposed costs for this Battersea project started from £127m to £229m. John's plan was short lived and the theme park was not built. Battersea Power Station was left with no roof or west wall.