Plan 2 for Battersea Power Station
The power station was then taken over by Hong Kong company Parkview International. They purchased the power station for £10m in 1993. It took Parkview International three years to secure legal ownership of the site, and a further nine years to buy the new parcels of land. The Taiwanese family have built 980 apartments in 18 towers, run fast food ferries and hotels in Hong Kong.
Victor Hwang took a more dominant role in developing plans for the Battersea Power Station. These included a conference centre and a 2,000 seat theatre for 'Cirque du Soleil,' a Canadian acrobat group whose works are well known across the world. Hwang's hope was to create a 'Covent Garden in the air,' which would include terraces with sunset views, a single round table for two at the top of one of the Battersea Power Station chimneys, a glass ballroom, a sports complex, a village for the film making industry, a cinema and a footbridge over the Thames.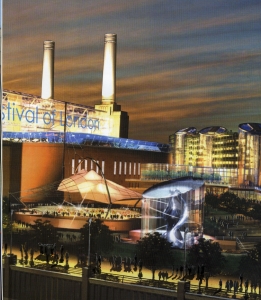 Source: The new Battersea Power Station from Power Station magazine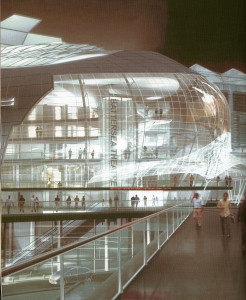 Source: Theatre for Cirque du Soleil from Power Station magazine
Wandsworth Council passed Victor's plans. In 2006 he won planning consent for a downsized version of his original plan. He claimed to have spent £200m in Battersea. English Heritage failed to issue repairs notices and were persuaded that the chimneys needed to be knocked down and rebuilt.
Parkview International's plans for the redevelopment of Battersea Power Station lasted 13 years. The site was then sold to current owners, Real Estate Opportunities for £400m in December of 2006.