Plans for New Use
Current owners John Ronan and Richard Barrett from Real Estate Opportunities have new plans for the regeneration of Battersea Power Station. Rob Tincknell, Managing Director of Treasury Holdings UK and International, is in charge of this redevelopment. He is one of the UK's largest developers.Treasury Holdings is John and Richard's private company and own 58% of REO. It was stated that the scheme is to be the largest property development undertaken by an Irish company.
Richard Tracey, chairman of Wandsworth's Conservatives and former 'Community Relations Manager' of the power station was brought in as a consultant to Parkview International and kept on by REO. Former borough planner for Wandsworth Ian Thompson was given a consultancy role with Parkview two months after leaving his public post. He was not kept on by REO.

Architect Rafael Viñoly was commissioned to design the new plans for Battersea Power Station.

Originally it was proposed that there would be a 1000ft Dyson tower building, larger than Big Ben from the view of the House of Commons as seen from Hungerford Bridge. This was called the 'eco chimney.' This eco tower plan was not approved by Mayor Boris Johnson as the landmark would have lost its World Heritage View. It was then proposed to make the tower smaller in height.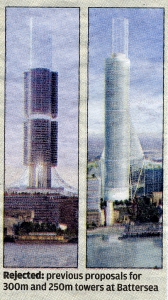 Source: The Eco Chimney from Evening Standard newspaper