Ruhullah Aramesh was a 24 year old refugee from Afghanistan. He was attacked in Thornton Heath on 31st July, 1992, by a gang of twenty yelling racist epithets. They beat him with iron bars and wood planks until his skull was crushed.

He died on August 2, 1992. Barry Hannon (17), his brother, Paul Hannon(18), and Joseph Curtin (17), were sentenced to life for murder. Richard Turner, (19), and Jamie Ware (19), were acquitted of manslaughter and murder. Another boy, seventeen years old, whose name was not released, was acquitted for attacking Mr. Aramesh but convicted for assault for having previously attacked a friend of Mr. Aramesh. Barry Hannon and Joseph Curtin had also attacked an Asian family only an hour before killing Mr. Aramesh, hitting a man, sixty-five years old, on the head with a bottle. 

It was recorded as racially motivated. Barry Hannon, Paul Hannon, Joseph Curtin were given life for murder. One other was convicted of manslaughter through diminished responsibility, and three were acquitted. Curtin was freed on appeal after 3 years, due to the judges' failure to summarise the police interview.
His death was just one of multiple killings that happened near to the BNP headquarters, as well as Stephen Lawrence and Rohit Duggal.
We have footage of the march and speakers representing:
Croydon Race and Equality Council ,
Refugees Ad-hoc Committee f0r Asylum Rights RACAR ,
Weyman Bennett Anti-Nazi League
Labour Councillor from Croydon North West.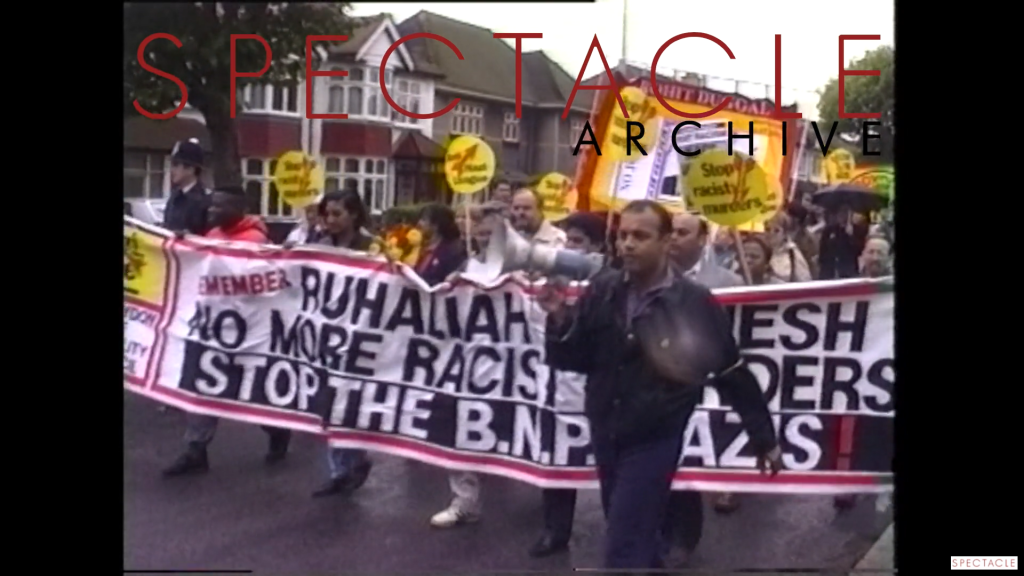 Can you help?
The speakers are announced but it is difficult to work out exactly their names or how to spell them, so if you have any idea of who they are please let us know at archive@spectacle.co.uk or comment below.
Sign up to our Newsletter for more information about our ongoing projects.
Spectacle Homepage
Like Spectacle Documentaries on Facebook
Follow us on Twitter, Instagram, Vimeo, Youtube and Linkedin