The Antifa Saar group are organising a screening of the new German version of the Truth Lies in Rostock on  Thursday July 7th as part of a campaign to commemorate the murder of Samuel Yeboah, a refugee from Ghana, in 1991 in the Saarbruecken area. There will also be a talk and discussion about the murder and the lack of an official remembrance.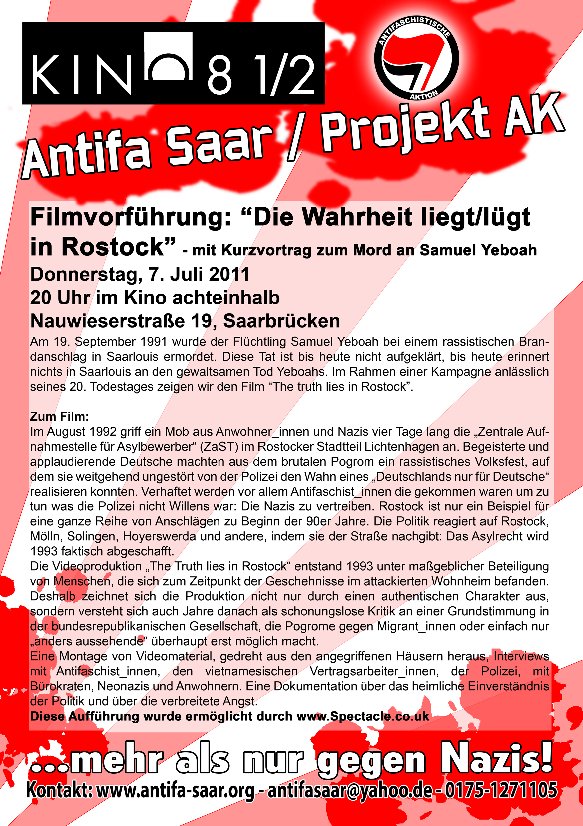 For more details contact: AntifaSaar
antifasaar@yahoo.de
Filmvorführung: "Die Wahrheit liegt/lügt in Rostock" – mit Kurzvortrag zum Mord an Samuel Yeboah
Donnerstag, 7. Juli 2011
20 Uhr im Kino achteinhalb
Nauwieserstraße 19, Saarbrücken
Am 19. September 1991 wurde der Flüchtling Samuel Yeboah bei einem rassistischen Brandanschlag in Saarlouis ermordet. Diese Tat ist bis heute nicht aufgeklärt, bis heute erinnert nichts in Saarlouis an den gewaltsamen Tod Yeboahs. Im Rahmen einer Kampagne anlässlich seines 20. Todestages zeigen wir den Film "The truth lies in Rostock".
Zum Film:
Im August 1992 griff ein Mob aus Anwohner_innen und Nazis vier Tage lang die ?Zentrale Aufnahmestelle für Asylbewerber? (ZaST) im Rostocker Stadtteil Lichtenhagen an. Begeisterte und applaudierende Deutsche machten aus dem brutalen Pogrom ein rassistisches Volksfest, auf dem sie weitgehend ungestört von der Polizei den Wahn eines ?Deutschlands nur für Deutsche? realisieren konnten. Verhaftet werden vor allem Antifaschist_innen die gekommen waren um zu tun was die Polizei nicht Willens war: Die Nazis zu vertreiben. Rostock ist nur ein Beispiel für eine ganze Reihe von Anschlägen zu Beginn der 90er Jahre. Die Politik reagiert auf Rostock, Mölln, Solingen, Hoyerswerda und andere, indem sie der Straße nachgibt: Das Asylrecht wird 1993 faktisch abgeschafft.
Die Videoproduktion ?The Truth lies in Rostock? entstand 1993 unter maßgeblicher Beteiligung von Menschen, die sich zum Zeitpunkt der Geschehnisse im attackierten Wohnheim befanden. Deshalb zeichnet sich die Produktion nicht nur durch einen authentischen Charakter aus, sondern versteht sich auch Jahre danach als schonungslose Kritik an einer Grundstimmung in der bundesrepublikanischen Gesellschaft, die Pogrome gegen Migrant_innen oder einfach nur ?anders aussehende? überhaupt erst möglich macht.
Eine Montage von Videomaterial, gedreht aus den angegriffenen Häusern heraus, Interviews mit Antifaschist_innen, den vietnamesischen Vertragsarbeiter_innen, der Polizei, mit Bürokraten, Neonazis und Anwohnern. Eine Dokumentation über das heimliche Einverständnis der Politik und über die verbreitete Angst.
Diese Aufführung wurde ermöglicht durch www.Spectacle.co.uk
To order The truth lies in Rostock DVD in English, French, Spanish or German