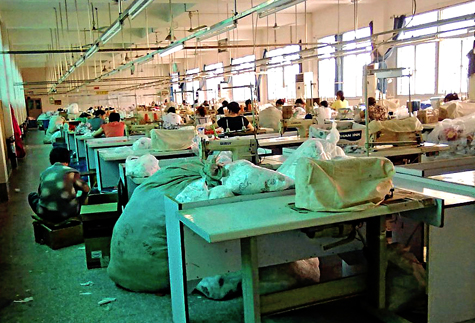 New allegations have been made that cuddly toy versions of the Olympic mascots are being produced in factories that abuse worker's rights. The allegations have led to an internal investigation by LOCOG. The British toy company Golden Bear, who sell the mascot toys have been accused that  workers in their Chinese factory are alleged to work more than 11 hours a day, for 26p per hour. Golden Bear, along with the BTHA (British Toy and Hobby Association) have launched an inquiry and LOCOG claims to have contacted licensees to 'reiterate the importance we place on the sustainable sourcing code they have each signed up to.' A LOCOG spokesperson has said that they 'place a high priority on environmental, social and ethical issues when securing goods and services and take these allegations extremely seriously'.
The LOCOG Sustainability Source Code (http://www.london2012.com/publications/locog-sustainable-sourcing-code.php) outlines LOCOG's approach to the sustainable sourcing of materials, from timber for furniture and fitting to the product specific industry standards in merchandising. The principal audiences of the Code are internal buyers and specifiers and prospective suppliers and licensees i.e. both the LOCOG merchandising team and the toy's manufacturers, Golden Bear. The code specifies that:
"Put simply, our approach to sourcing sustainable products can be based
on the following five key questions:
1. Where does it come from?
2. Who made it?
3. What is it made of?
4. What is it wrapped in?
5. What will happen to it after the Games? "
It's aim is that interested parties "can better understand our views on sustainability and how they are being implemented." Prospective suppliers and licensees are advised to review the requirements of the Code and ensure that relevant areas of their business and supply chain are in compliance with its provisions. On occasions when we are sourcing services which involve labour, LOCOG uses the Ethical Trading Initiative (ETI) Base Code (http://www.ethicaltrade.org/resources/key-eti-resources/eti-base-code) as the required standard that suppliers should be achieving. in the case of Golden Bear's factory, LOCOG's processes for the tendering of contracts, both the Sustainability Source Code and the ETI Base code, seem to have been neglected. The question therefore is, how has this happened?
The LOCOG Code states that "following our due diligence process and award of a contract, we will monitor a supplier or licensee's practices to ensure they are being carried out as agreed in the tender process", and they utilize a spend priority categorization system to determine the likelihood of assessment and monitoring during the tender process. This means that the higher the priority according to the spend categorization the more likely it is that the prospective suppliers and licensees will be evaluated for their ethical sustainability. According to LOCOG sustainable sourcing code, the product specific industry standards for merchandising (the category into which the toy mascots fall) are rated as "moderate" priority and are SEDEX (Supplier Ethical Data Exchange – http://www.sedexglobal.com) mandated, though no guidelines or strategies exist for supporting sustainability. The upshot of this is that the potential for merchandise suppliers to be assessed during the tender process "will be determined by LOCOG on a case-by-case basis", with "moderate" priority for sustainability support.
Perhaps in the case of Golden Bear the assessments were not deemed necessary. Perhaps the difference between "moderate" and "high" priority is purely a result of interest in the abuses of factory workers. Perhaps it is even the case that the LOCOG Sustainability Source Code is an elaborate exercise in demonstrating how important such ethical issues are in relation to the spending of money. It does seem more likely, though, that their prerogative is, as stipulated on page three of the Code, that "LOCOG will do business with suppliers and licensees who are best placed to deliver outstanding value for money". In the case of the Golden Bear factory, this seems to be at odds with their commitment to sustainability as "one of several core elements which make up how we (LOCOG) define value for money."
Click London Olympics for more blogs
See our Olympics project pages for more information and videos.
Or visit PlanA our general blog on urbanism, planning and architecture.
Spectacle homepage
Befriend Spectacle.Docs on Facebook
Follow SpectacleMedia on Twitter