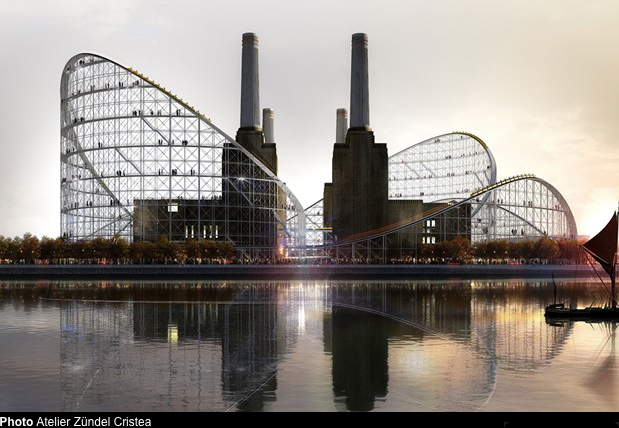 The "new" idea of a roller coaster wrapped around the power station.

A similar idea but from 1988
Wired Magazine wrote earlier this week about who the Architecture firm Atelier Zündel Cristea (AZC) had won a competition hosted by ArchTriumph. The competition was to use the Power Station as inspiration to imagine a new Museum of Architecture.
AZC idea was to build a roller coaster around the Power station, add some new floors, have galleries inside and use the roof for exhibitions on architecture.
The idea of turning the Power Station into a roller coaster is not new. It is an old idea from Margaret Thatcher's eighties that thankfully never happened.
Click Battersea Power Station for more blogs
See our Battersea Power Station project pages for more information and videos.
Or visit PlanA our general blog on urbanism, planning and architecture.
Spectacle homepage
Like Spectacle Documentaries on Facebook
Follow SpectacleMedia on Twitter