Het Battersea Power Station in Londen is een iconisch en geliefd gebouw gelegen langs de Thames. Door de ligging, afmetingen en vormgeving is het een ('beschermd') monument geworden,  Ook pronkte de voormalige kolencentrale op de cover van een Pink Floyd album. Helaas is het Battersea Power Station in de verkeerde handen gevallen. 1 van de eigenaren is palmoliebedrijf Sime Darby.
Dankzij het rapport Sime Darby and land grabs in Liberia June 2013, gepubliceerd door Friends of the Earth, kwam er niet alleen naar voren dat de in Maleisië gevestigde multinational conglomoraat Sime Darby verschillende wetten en mensenrechten zwaar schendt en het milieu verpest (zie de uitgebreide blog hierover en klik hier voor al onze blogs gerelateerd aan Sime Darby), maar ook dat veel pensioenfondsen en banken hier rustig aan mee werken, en hierdoor indirect jij ook. Hieronder een opsomming van de slinkse pensioenfondsen en banken die je beter kunt vermijden, indien mogelijk. Van bank en/of verzekeraar switchen na het lezen ervan lijkt een weloverwogen besluit. Het ergste van alles is nog dat de banken en pensioenfondsen het tegenovergestelde blijken te zijn van wat ze zeggen.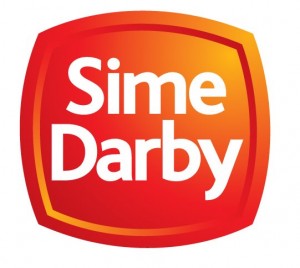 Pensioenfonds Zorg en Welzijn (PfZW) zegt alleen te investeren in bedrijven die rekening houden met milieubewuste, sociale en bestuursfactoren. Maar helaas blijkt het tegendeel waar. Ook zegt PfZW, na contact te hebben gehad met Friends of the Earth, zich zorgen te maken over de daden van Sime Darby. Ondertussen hebben ze aandelen in het bedrijf ter waarde van 25 miljoen euro. Pensioenfonds ABP (Algemeen Burgerlijk Pensioenfonds) is gebasseerd op de 'OECD richtlijnen voor multinationale ondernemingen'. Het startpunt is dat alle bedrijven waar ABP in investeert de principes, zoals beschreven door de UN Global Compact, zouden moeten respecteren. ABP heeft the Friends of the Earth laten weten dat ze in gesprek zijn met Sime Darby over de benadering en toepassing van duurzaamheid. Maar, ook ABP heeft aandelen in Sime Darby ter waarde van 13 miljoen euro.
Dan nu 1 van Nederlands meest populaire banken: ING. ING heeft een specifiek sociaal- en milieubeleid op bedrijven die actief zijn in de sector bosbouw en landbouwgrondstoffen vastgesteld. ING verlangt dat bedrijven onder andere kunnen aantonen dat zij sociale wetten en milieuwetten, -regels en vergunningsvereisten naleven. Maar, ondanks meerdere pogingen van Friends of the Earth om ING hierover te spreken, werden deze verzoeken genegeerd. ING is een obligatiehouder van Sime Darby met een totale waarde van 1 miljoen.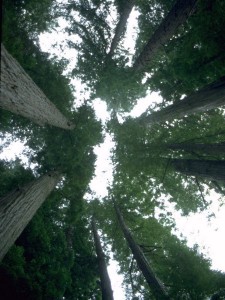 Het volgende ANP bericht brengt dezelfde informatie naar voren over het gebrek aan transparantie van de Nederlandse banken:
DEN HAAG (ANP) – Grote Nederlandse banken als ABN
Amro, ING, Rabobank en SNS zijn nog steeds niet transparant over hun investeringen. Ook geven ze nog te weinig openheid over hun eigendomsstructuur en dochterondernemingen, over in welke landen ze belasting betalen en hun lobbyactiviteiten richting overheden. Dat staat in een donderdag gepubliceerd onderzoek van de Eerlijke Bankwijzer, een initiatief van onder meer Oxfam Novib, FNV, Amnesty International en de Dierenbescherming.

,,Als klant bij deze banken heb je geen idee waar je bankin investeert en waar je spaargeld precies aan wordt besteed", zegt Peter Bras, projectleider van de Eerlijke Bankwijzer. ,,Vooral de grote banken missen nog steeds het gevoel van urgentie om voldoende openheid te geven over hun investeringen en over de impact van hun beleid in de praktijk. Deze openheid is juist dringend nodig om het vertrouwen van klanten terug te winnen en om bij te dragen aan het verduurzamen van de economie."
Kleinere spelers als ASN Bank, NIBC, Triodos en Van Lanschot geven volgens Bras veel beter aan in welke bedrijven en projecten zij investeren.
Ook bleek uit het onderzoek van Milieudefensie en Friends of the Earth dat de Rabobank miljoenen euro's spaargeld van Nederlande burgers in palmoliebedrijf Bumitama investeert, dat zich op het Indonesische Borneo schuldig maakt aan landroof, ontbossing en overtreding van nationale wetten en internationale richtlijnen. Ook ING, ABN AMRO en de pensioenfondsen ABP en PFZW zijn -zij het indirect- betrokken bij de illegale praktijken.
Voor het rapport is veldonderzoek gedaan op Kalimantan en zijn de investeringen van financiële instellingen in de betrokken palmoliebedrijven onderzocht . De Rabobank heeft 47 miljoen euro aan leningen uitstaan bij Bumitama. PFZW, ABP, ING en ABN AMRO hebben voor vele miljoenen aan leningen uitstaan bij en/of aandelen en obligaties in de palmoliebedrijven IOI en Wilmar International, die op hun beurt grootafnemer of aandeelhouder zijn van Bumitama. De toenemende Europese vraag naar palmolie, dat vooral voor biobrandstof wordt gebruikt, is een van de oorzaken van het groeiende areaal aan palmolieplantages, waar vaak landroofschandalen en illegale ontbossing voorkomen.
Ook de Nederlandse overheid speelt een rol in het 'boefje spelen met het geld van de bevolking' door investeringen in dit soort schadelijke praktijken te reguleren. Minister Ploumen zei daarover in een kamerbrief van 11 juni dat ze er aan wil bijdragen dat 'Nederlandse bedrijven en financiële instellingen een positieve gidsrol gaan vervullen bij het tegengaan van landroof'. Milieudefensie zal kritisch volgen hoe de minister dit voornemen invult en vormgeeft.
Dus aan welke bank kunnen we ons geld nu nog toevertrouwen? Bij welke bank dragen we niet bij aan de schending van mensenrechten en/of milieuvervuiling? Gelukkig is er nog hoop. Hier een rijtje van de good and bad ones, volgens een meting van de Eerlijke Verzekeringswijzer.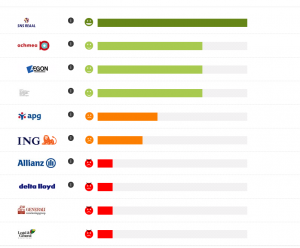 Verander hier van verzekeraar of laat je ontevredenheid horen.
Zie de blog homepage voor meer blogs (in het Engels) over urbanisme, mensenrechten en sociale rechtvaardigheid.
Klik Battersea Power Station voor meer blogs gerelateerd aan het Battersea Power Station
Zie onze Battersea Power Station project pagina's voor meer informatie en video's
Of bezoek PlanA , onze algemene blog over urbanisme, planning en architectuur
Spectacle homepage
Like Spectacle Documentaries op Facebook
Volg SpectacleMedia op Twitter