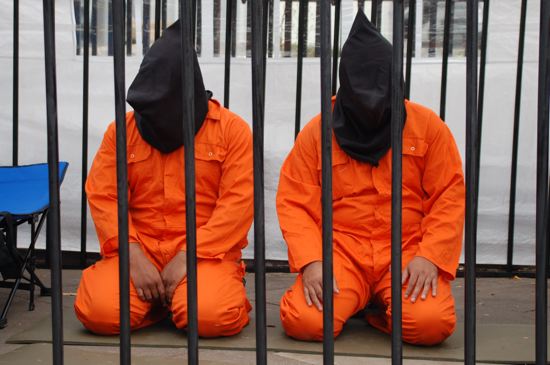 De senaste 11 åren har flera har hundratals människor hållits fånga på militärbasen Guanatanamo Bay. De flesta har släppts, men trots Obamas löfte under sin valkampanj att stänga Guantanamo inom ett år, sitter fortfarande 166 personer fångna. 86 utav dessa har blivit frikända, men har ändå inte fått tillåtelse att lämna fängelset.
Trots uppmärksamheten som riktats mot fängelset på grund av missförhålllanden och tortyr, pågår denna behandling utav fångar än idag. Även emot de som har blivit frikända. Det pågår fortfarande FCE (forcible cell extraction) där fångarna utan anledning bärs på ett smärtsamt sätt och med våld ut ur sina celler. Något som även har förekommit under fångarnas bönetider
Sedan början utav februari har det pågått en hungerstrejk i protest mot vakternas respektlöshet inför fångarnas religion. Inte nog med att de intagna har tvingats ut ur sina celler under bön, vakterna har även börjat visa respektlöshet mot koranen genom att bland annat söka igenom den med argumentet att "fångarna kan ha gömt mat, egengjorda vapen, medeciner etc. i dem". Vad de glömde nämna är att för en troende muslim ses det som respektlöst att använda koranen som gömställe för saker.
Något jag finner väldigt intressant som svensk under denna period är bristen av artiklar i svenska tidningar om hungerstrejken. Fångarnas advokater hävdar att det är ca 130 stycken som deltar i hungerstrejken, men detta har inte gjort de svenska medierna mer intresserade.
Expressen skrev en väldigt kort artikel om hungerstrejen och nämnde endast att den existerade och att några fångar hostat blod, blivit inlagda, svimmat eller blivit svaga och matta. Svenska dagbladet nämner i sin artkiel endast att fångarna klagar på att det är kallt i cellen och att de inte får vatten. Även att rödakorset tidigare lagt ett besök.
Den enda svenska median jag kan hitta som nämner en hyffsat vettig information är P3, men de nämner ändast de siffror som kommer från de Amrikanska myndigheterna. Dock nämner det även att de egentliga siffrorna troligen är mörkade utav USA och att advokaterna till fångarna hävdar att det är fler som deltar.
Min fråga är bara varför? Varför har Sverige bestämt sig för att inte rapportera mer om en händelse som denna? Varför ska svenskarna inte få höra om de missförhållanden som sker mot helt oskyldiga människor? Är det inte viktigt att informera samhället vad som händer i världen_ Har Guantanamo funnits för länge för att media ska orka bry sig om vad som händer där_ Är det verkligen så svårt att genomföra research och skriva en vettig artikel om en sådan stor grej, som att nästan alla fångar på Guantanamo hungerstrejkar på grund utav att de lever ett sådant hemskt och meningslöst liv? Ett liv där inte ens deras religion blir respekterad?
Media har en stor makt i samhället, det får man alltid höra från alla håll och kanter. När svenska medier väljer att inte skriva om en sådan här sak blir jag arg och besviken att jag är svensk. Istället för att upplysa folk och uppmuntra dem att göra något för att bidra till en förändring, väljer de istället att tvinga mäniskor att blunda.
Order Spectacle's DVDs  Shaker Aamer: a decade of injustice ( New Version) and  Outside The Law: Stories from Guantánamo
Click Guantánamo for more blogs
Or visit our Guantánamo project  and Shaker Aamer project pages for more information and videos.
Spectacle homepage
Like Spectacle Documentaries on Facebook
Follow SpectacleMedia on Twitter