Tower Hamlets - Limehouse
Changing Minds in Tower Hamlets 2009
In June the first group in the Changing Minds program graduated from their 'Train the Trainer' course.
Changing Minds Video Workshop, April 2010

A video workshop was held to follow up the course. Participants filmed and interviewed one another to explore their various experiences of the Changing Minds course.
Dermoth Alexander Henry interview

In addition to the peer-to-peer interviews, the group also filmed interviews with Sally Lawson and Stephanie McKinley, who were involved in developing and delivering parts of the course.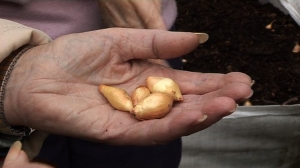 Lansbury Gardening Club, 30th November
As well as documenting the day's activities, Spectacles presence was publicised by Groundwork, allowing Limehouse residents to come along with the specific intention of filming and registering their interest in future workshops.
To view clips and interviews from the event, visit the Spectacle Archive using the lnks below.

Well London - Lansbury Gardening, Elen Miles Interview
Well London - Lansbury Gardening, Joanne Barry Interview
Well London - Lansbury Gardening, June Murphy Interview
Well London - Lansbury Gardening, Louise Joly Interview
Well London - Lansbury Gardening, Planting
Fro more information and images visit the Lansbury Gardeners' Flickr group
If you are a Limehouse resident and interested in being part of the Well London Media Project in your area, learning to shoot and edit documentary video or completing a professional placement please contact Spectacle or

Greg Pittard, Project Co-ordinator
well-london@spectacle.co.uk
020 7223 6677
Clips from Well London, along with footage from other Spectacle projects, can also be viewed in the Archive.
To view related articles and discuss issues raised in these clips please visit the Spectacle Blog.
Please click below to download the Tower Hamlets Active Living Map
Map_Tower_Hamlets_Final.pdf