We are pleased to announce that after a few months of filming and collecting stories from Battersea residents, we are ready to screen our project to the public!
Memories of Battersea is a video oral history project run by Spectacle and part funded by the Wandsworth Grant Fund. The project gave young adults from Battersea the opportunity to be trained in film-making while producing short films about their neighbourhood, collecting memories from elder Battersea residents, bridging intergenerational gaps and engaging with the history of their borough.
The screening will take place on Monday, 15th October at
Senior Citizen Club
234 Carey Gardens
London SW8 4HW.
4.30pm – 5.30pm – walking tour of the Carey Gardens Estate with Mark Saunders – filmmaker, Brian Barnes – mural artist and Nick Wood – architect
5.30pm – 7.30pm – screening and discussion with contributors and filmmakers
You can find trailers to "Memories of Battersea" in our previous posts or on Spectacle's Youtube channel: bit.ly/MBATTtrailers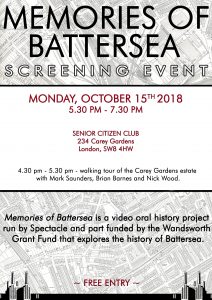 More info about the event can be also found here
Spectacle homepage
Like Spectacle Documentaries on Facebook
Follow SpectacleMedia on Twitter
Instagram Spectacle_Media
To get the latest news from Spectacle, sign up to our Newsletter