Wandsworth Against the Cuts has opened an online petititon to the Government to avoid the closure of Kimber Road and Battersea Park playgrounds. As York Gardens Playground has been recently flattened by builders they believe Kimber Road could be torn down as early as this Friday and Battersea soon after.
Campaigners claim that the closure of the adventure playgrounds will deprive children and young teenagers of things to do on these areas.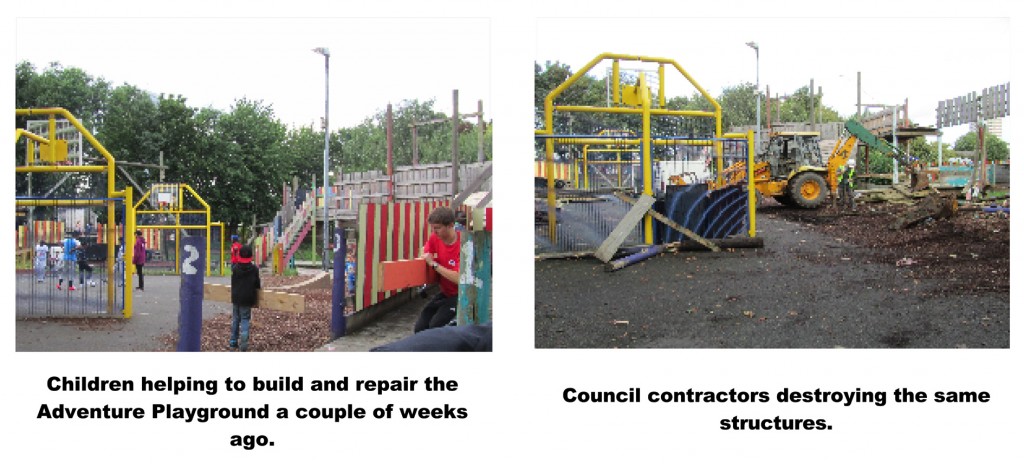 Visit Wandsworth Against the Cuts website for ways to try and prevent this happening.
It seems that Malaysian owners Sime Darby´s plans for the regeneration of the Battersea Power Station does not include any playground areas among these 3.400 homes, 2 hotels and dozens of shops and restaurants.
It would be a very good idea if part of (a publicly owned) Battersea Power Station were to be designated a huge public adventure playground for the joy of all the children of the area. But it is clear Wandsworth Council does not see providing for children as important as helping to enrich property developers by sanctioning the building of DINKy (Double Income No Kids- yet) Ghettos.
Check this video out for more information about this story.
Click Battersea Power Station for more blogs
See our Battersea Power Station project pages for more information and videos.
Or visit PlanA our general blog on urbanism, planning and architecture.
Spectacle homepage
Like Spectacle Documentaries on Facebook
Follow SpectacleMedia on Twitter