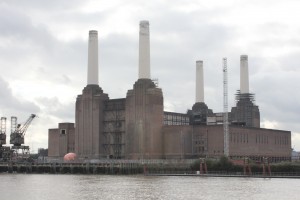 Keith Garner has written the letter below on behalf of the Battersea Power Station Community Group (BPSCG) to English Heritage. It outlines their proposal to purchase the monumental building for £1 and then their community driven plans for the future of the station.
12th June 2012
Dr Edward Impey
English Heritage
1 Waterhouse Square
138 – 142 Holborn
London EC1N 2ST

Dear Edward,

BATTERSEA POWER STATION

Thank you for calling me last week to discuss Battersea Power Station following our recent letter to Kay Andrews asking her for a meeting. It was good to hear from you again of course, but I was disappointed to hear that Kay Andrews is not able to see us, and that English Heritage does not think it has a role to play in resolving this long-standing issue at this time.

As has been EH's policy in recent times, you are leaving it to others to come up with solutions. Our most recent initiative – one of many over the last 29 years – was to propose to the administrators to divide Battersea Power Station itself from the South Lambeth Goods Yard site (acquired by John Broome), placing the former in a trust with an endowment, and selling the latter to pay the creditors. The Battersea Power Station Company – a charitable trust we set up in 2002 – offered £1 to take over the building and to open it to the public in the short term. We discussed this last week when you agreed that this sounded like a plausible approach.

Other organisations have also been active in bringing forward initiatives. In April, the Twentieth Century Society organised a symposium to discuss the future of the building. One of the key points of consensus to emerge was desirably of some form of trust ownership, which prompted us to make our bid. Other than the Survey of London personnel, I don't think English Heritage was represented at the symposium. This was unfortunate, as you would also have seen a very interesting scheme for the building and surrounding area put forward by Marcus Binney of SAVE and Graham Morrison of Allies & Morrison.

The scheme develops ideas in SAVE's 1981 report (which Graham Morrison also worked on) proposing an amphitheatre in the central boiler house space. This would be unroofed initially using temporary seating similar to that proposed for Olympic events, e.g. A&M's scheme for Greenwich Park. Longer term, the intention would be to roof the space (an unroofed space would not be a good neighbour in the longer term) and to re-inhabit other parts of the building. Meanwhile the development of the surrounding site would commence.

The scheme would achieve many of the things Battersea Power Station Community Group has advocated over the years. It allows public access to Battersea Power Station. It proposes a sensible phased refurbishment of the building itself and the site around, taking a much longer view than other schemes we have seen. New buildings respect the scale of the Power Station and allow it to continue to exist as an urban monument. The listed Victorian pumping station is also retained. (We would hope of course to see social housing of various kinds as well.)

We also feel that the SAVE/Allies & Morrison scheme is consistent with our proposal to divide the two sites, with the Power Station put into a trust. Indeed, the SAVE/Allies & Morrison scheme might be facilitated if this was done. There is a strong commercial case for SP Setia to put the Power Station into a trust. As a predominantly public building it becomes a "draw" raising the profile of the adjacent commercial site. But at the same time, SP Setia would not be responsible for looking after the building or making it work commercially.

Much of the inflated price of £400m is predicated on having to pay for the "restoration" of the building. This in turn will lead to the over-development of the surrounding site; as we have already seen with the widely condemned Vinoly outline permission. If the obligation to look after the listed building is taken away from SP Setia, then perhaps some height reductions can be negotiated, to the scale A&M propose? Some funding could plausibly come from the HLF instead, the popular Battersea Power Station being a worthy recipient of public money.

There is a further question you should take up with central government, namely the financing of the Northern Line extension. Battersea Power Station Community Group is sceptical as to the necessity of this line, given the two overground stations, plentiful buses etc. But if it is to happen the new owners should not be expected to make a £200m contribution toward the cost of it. The public good here is the preservation of and public access to Battersea Power Station. The new owners should not be encumbered with the additional cost of funding a tube contribution as well.

Surely then, this is an opportunity for English Heritage to influence the future of Battersea Power Station. But there is little time as only 28 days – the 'due diligence' period – has been allowed for negotiations. The building is still standing, another over-development has collapsed – as predicted – and the threat to demolish the chimneys is no longer imminent. And there are very positive and possible ideas to save Battersea Power Station as outlined above. With all these factors before us, now would seem to be a good time to meet.

Yours sincerely,
Keith Garner
for Battersea Power Station Community Group
E-mail: keithwgarner@btinternet.com

cc Mr Paul Appleton Allies & Morrison
Brian Barnes MBE BPSCG
Mr Marcus Binney SAVE Britain's Heritage
Dr Catherine Croft Twentieth Century Society
Lord Alf Dubs
Answer came there none.
Click Battersea Power Station for more blogs
See our Battersea Power Station project pages for more information and videos.
Or visit PlanA our general blog on urbanism, planning and architecture.
Spectacle homepage
Befriend Spectacle.Docs on Facebook
Follow SpectacleMedia on Twitter