Lush Fresh Handmade Cosmetics company has a campaign supporting charities concerned with human rights, animal welfare and environmental protection. And now, one of those charities is Save Shaker Aamer.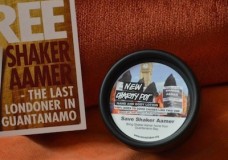 In 2013, Charity Pot donated over £2.5 million to organizations around the world. The funding generated by Charity Pot sales is essential for the survival of independent groups. All of the proceeds, minus VAT, are donated to independent grassroots charities like East Kent Against Fracking to lobby against planning application; provided Stop The Cull with binoculars to locate shooters in 'cull zones;' and helped rental advisory group Digs, host a series of training events to build a campaign against exploitation by private landlords.
Lush has made a video talking about some of the charities that they support and why and how they do that.

Order Spectacle's DVDs  Shaker Aamer: a decade of injustice ( New Version) and  Outside The Law: Stories from Guantánamo
Click Guantánamo for more blogs
Or visit our Guantánamo project  and Shaker Aamer project pages for more information and videos.
Spectacle homepage
Like Spectacle Documentaries on Facebook
Follow SpectacleMedia on Twitter