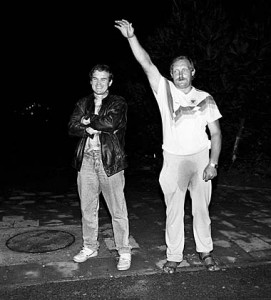 Der 20. Jahrestag der Pogromnaechte von Rostock-Lichtenhagen ist Anlass fuer zahlreiche Veranstaltungen und Projekte in Deutschland. Unter anderem wird mit Filmvorfuehrungen der Dokumentation "Die Wahrheit liegt in Rostock", an die Ereignisse erinnert.
Im August 1992 griffen Neonazis und Bewohner die Zentrale Aufnahmestelle fuer AsylbewerberInnen, sowie ein benachbartes Wohnheim fuer vietnamesische VertragsarbeiterInnen an. Ueber drei Tage dauerten die rassistischen Ausschreitungen. Schaulustige applaudierten als das Wohnheim schliesslich in Brand gesteckt wurde. Die Polizei sah weitgehend tatenlos zu. Nur Wochen nach den Übergriffen wurde im Bundestag das Grundrecht auf Asyl abgeschafft.
Die Filmproduktion "Die Wahrheit liegt in Rostock" entstand 1993 mit Hilfe von Menschen, die sich zum Zeitpunkt der Ereignisse im attackierten Wohnheim befanden. Der Film beinhaltet unter anderem Interviews mit vietnamesischen VertragsarbeiterInnen, der Polizei, AnwohnerInnen, Neonazis und AntifaschistInnen. Er zeichnet nach, wie die Stimmung auch durch behördliche Maßnahmen angeheizt wurde und untersucht, warum die Polizei während der Pogrome drei Tage lang komplett untätig blieb.
Bereits Anfang Mai diesen Jahres haben sich die Macher der Rostocker Zeitschrift "Stadtgespraeche" mit dem bevorstehenden Jahrestag im August beschaeftigt. Mit Hilfe einer Crowdfunding-Initiative wurde genug Geld aufgebracht, um 10.000 DVD-Exemplare von "Die Wahrheit liegt in Rostock" zu produzieren. Anfang August wurden die DVDs kostenlos an Haushalte in Rostock verteilt.
Filmvorfuehrungen:
Leipzig: Thu, 09.08.2012, 20.00 Uhr
Bremen: Sa, 11.08.2012, 18.00 Uhr
Hamburg: Su, 12.08.2012, 20.00 Uhr
Dresden: Wed, 15.08.2012, 21.00 Uhr
Kassel: Thu, 16.08.2012, 19.30 Uhr
Uelzen: Wed, 22.08.2012, 18.30 Uhr
Bruchsal: Wed, 05.09.2012, 18.30 Uhr
Click The Truth Lies in Rostock for more blogs
Or visit our The Truth Lies in Rostock project pages for more information and videos.
Spectacle homepage
Add Spectacle.Docs on Facebook
Follow SpectacleMedia on Twitter