If you want to read the English version, click here.
Todos estamos muy contentos con el resultado del rodaje en la localización, lo que nos da un margen de confianza. El último día de rodaje llega. Nos quedan por grabar todas las escenas en Chroma Key. Día muy importante para los especialista de CGI. La iluminación tiene que ser perfecta para que no haya problemas con el Chroma Key y conseguir que el espacio generado no parezca artifial.
A primera hora de la mañana nos dirigimos a Brunel studio. La universidad nos ha cedido su estudio. Alguno de sus estudiantes nos ayudan asistiendo en el rodaje.
Esta vez todo va con más calma. Hay menos actores también, con lo que parece más fácil manejar la situación.  Los actores, Steel, protagonista principal, Wendy y Asif, personajes bajo el cristal, están envueltos en una atmósfera verde que se transformará en el espacio oscuro escondido bajo el cristal una vez finalizada la postproducción.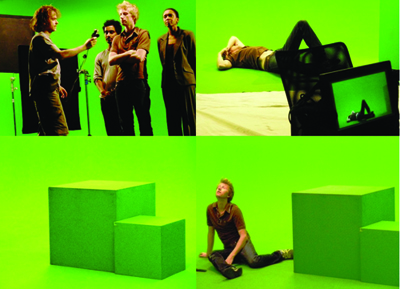 Grabamos el "descenso" de Steel al otro lado del cristal. Grabamos también el momento en que Steel es consciente de que no es el único atrapado en ese mundo desconcertante.
Todo va muy bien. Todos los técnicos son buenos profesionales que ponen todo su esfuerzo en conseguir un buen trabajo. La iluminación es buena después del gran trabajo de nuestro técnico de iluminación, Rob Collins. Nos convencen los planos y la actuación de los actores. Dave Barnard y Alan Marques, están controlando y procesando el resultado de las imágenes obtenidas a través de su ordenador. Mark Carey, director de fotografía, y Sam Rawlings, focus puller, están consiguiendo un resultado muy bueno en los planos grabados. Mark, el director, y Cati, primer asistente de dirección, dirijen a los actores y ayudan a que todo se cumpla según lo previsto. Los asistentes Ritvan, Rakesh y James están en todo momento dispuestos para lo que sea necesario.Todo está bajo control.
Carla, representante del Consejo de Europa, parece feliz con el resultado.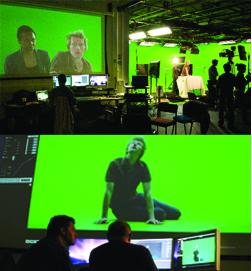 Liz Adams, la futura editora del proyecto, también está presente en el rodaje. Es la encargada de hacer el making of. Todos los involucrados en el rodaje son entrevistados. Es un documento muy interesante del que poder aprender en un futuro. Los técnicos nos cuentan su papel dentro del rodaje con el fin de que todos podamos entender cómo ha evolucionado este proyecto.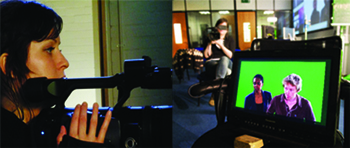 El rodaje termina antes de lo esperado, señal de que todo va bien y de que todo el mundo está contento con el resultado.
Para el recuerdo, esta foto final del equipo de rodaje de este video contra la discriminación "The Glass Ceiling".
Ahora, la segunda parte del proceso comienza y cedemos el turno a la postproducción, que se encargará de dar forma a este video y hacerlo real.
Sólo me queda, desde Spectacle, dar las gracias a todos los que han participado en este proyecto, porque sin vosotros no hubieramos sido capaces de romper este cristal que, aunque invisible, muchas veces pesa sobre nuestras cabezas.
Si quieres ver las fotos del rodaje, pincha aquí para acceder a flickr.
Si quieres ver las primeras imágenes del rodaje, pincha aquí.
Para obtener más información acerca del proyecto "Speak out against discrimination", pincha aquí.
Para obtener más información acerca de Spectacle, pincha aquí.