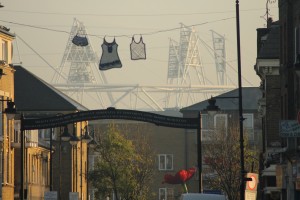 The Olympic Games literally and symbolically 'take place' in major cities. They represent the mega-event par excellence which not only physically transforms areas of cities beyond recognition but also shifts the urban place imaginary. City growth coalitions eagerly bid against other cities to win this world-class spectacle primarily for the boost it is supposed to impart to the local politics of urban regeneration. Researchers and activists over the last thirty years have highlighted how such grandiose visions and accelerated development projects produce spectacular but also highly inequitable outcomes for urban citizens. As with other neo-liberal regeneration programmes, the vital question of 'who really benefits?' is highly pertinent. However, many of the texts which researchers have produced are not well known or well understood outside the various academic specialisms within which they circulate. We are setting up a reading group open to students, academics, activists and other individuals interested in exploring the social, economic and political processes of these spectacular urban mega-events from critical perspectives.
The first meeting of the Olympic City Critiques reading group will take place at Birkbeck in central London on Wed 30 March 2011 12-2pm (Room 351, Malet Street).
The second meeting will be on Wed 27 April 12-2pm (Room 253, Malet Street). Subsequent meetings will be two weeks apart.
The paper 'Going for Gold: Globalizing the Olympics, Localizing the Games' by J.R. Short, provides a useful introduction to the topics we will be discussing, and I can email it to anyone interested in attending. The paper discusses the siting of the Summer Olympic Games at the global, national and local scales: the increasing corporatization of the Games is examined, and their use in city marketing campaigns is evaluated.
If you are interested in joining the reading group, please send an email to Dr. Paul Watt.
We look forward to seeing you at what will hopefully prove to be a stimulating reading group series.
Paul & Martin
Dr Paul Watt (p.watt@bbk.ac.uk)
Senior Lecturer in Urban Studies
Department of Geography, Environment & Development Studies
Birkbeck, University of London
Martin Slavin
member of the East End based group Games Monitor
a network of people raising awareness about issues within the London Olympic development processes.